By Rupa Seenaraine
Single-use plastics have become a common material in many packaging plants, and also constitutes as one of the key pollutants globally, especially in oceans where marine life is threatened.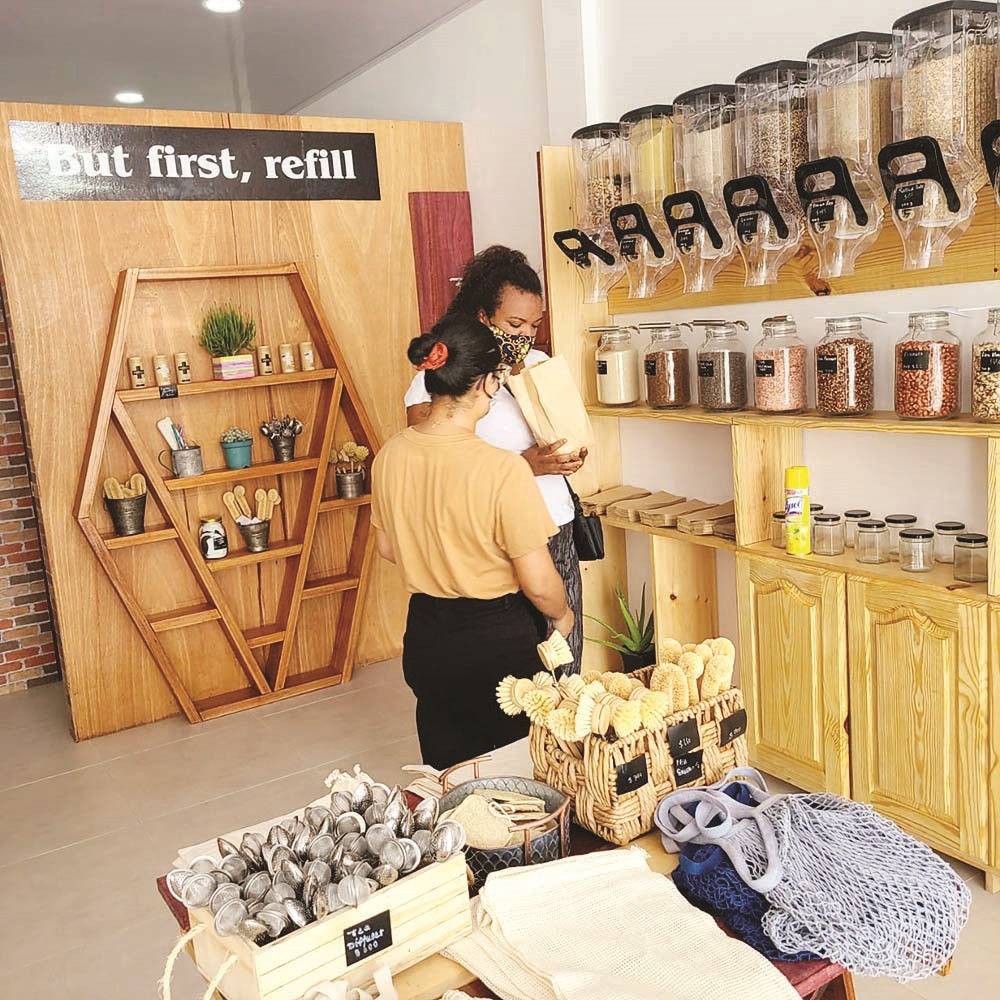 In Guyana, the Jars Zero Waste Store was recently launched to demonstrate how easy it is to purchase items which are not processed in heavy plastics, thus creating a positive impact on the environment.
Owner of the establishment, Alana Bunbury-Walton told Guyana Times exclusively that the idea came about after noticing the large masses of plastics, especially bottles, lining the streets and waterways. Since she was already conscious of her own plastic footprint, Bunbury-Walton said she decided to launch the zero-waste store.
"The idea of a zero-waste store was born out of a genuine concern for the amount of plastic in our society and the way we dispose of it. Single-use plastics is currently a global problem. Almost everything we purchase is either made of plastic or is heavily packaged in plastic. Locally, we see the way plastic bottles and other plastic waste litter our streets, drains and sea defences. After adopting a few personal habits of my own aimed at preventing single-use plastic, I decided to share with Guyana, how it is to become zero waste-conscious. That was the beginning of the Jars Zero Waste Store," she explained.
The store was opened just over a week ago but planning commenced since the latter part of 2019. Because of the coronavirus pandemic, some of their plans were halted. As such, another location for the venture was identified, and the business was opened at Lot 46 Garnett Street, Georgetown.
While speaking on some of the products that are offered, Bunbury-Walton detailed, "Relying on the principles of zero waste, which reduce, refuse, recycle, reuse and compost, we sought out products that were eco-friendly and added health foods as well."
Refill is offered on a number of products, especially those that are locally produced. Consumers are just tasked with measuring the amount of product that they need and place it in a reusable container.
Customers are encouraged to bring their jars or bottles, to refill locally produced detergent, which comes in eight different products. Their dry goods include oats, rice, quinoa, flax seeds, chia seeds, sesame seed, nuts from the Pomeroon region inclusive of almonds, pecans, and peanuts; beans, spices, couscous, pasta, and coconut oil. Coffee beans are also sold and can be ground at the store.
Meanwhile, there are eco-friendly plastic alternatives, such as stainless-steel reusable straws, reusable cotton face pads, shampoo bars, tea diffusers and utensils with wooden handles.
The founder told this publication that they are seeking to curb the long-term effects of using and disposing of plastics. This is even more important, given the limited recycling opportunities.
"Because of the limited recycling opportunities here, we are faced with the tough task of dumping tons of plastic in our landfill. A plastic bottle takes 450 years to decompose while a plastic bag takes 10 to 20 years. Imagine the impact that this is already having on our environment."
Thus far, many Guyanese have shown interest in the zero-waste establishment, and were inclined to learn about the concept and the products offered. The mother of two shared that they are looking forward to increased support to create a new movement.
Those desirous of getting involved in zero-waste living can easily develop small habits over time, which includes taking a reusable shopping bag to the market and refusing plastic bags.
The United Nations Environment Programme has reported that only nine per cent of the world's nine billion tonnes of plastic has been recycled. The remainder ends up in landfills, our oceans and waterways, and the environment. The material is one which does not biodegrade, but merely breaks down in small pieces referred to as microplastics.
Local eco-friendly businesses can also feature their products in the store.