This weekend, Guyanese can tune their ears to the fresh new single named Coco Krazy, a song that singer Azar says brings a feeling of fulfilment mixed with a few goosebumps.
Azar told Guyana Times that the song, mixed and mastered by producer Darrel Pugsley of DP Records, is a love story. "When people are in love, the crazy things which they would do, the vibe that they get from each other, the atmosphere, is there," Azar said of his new song, which is expected to hit social media on Sunday evening.
Coco Krazy, which falls within the pop and R&B genres, speaks of a man who confesses his feelings to a girl. They were best friends, and although they had feelings for each other, they did not wish to risk confessing those feelings to each other, fearing it would end their friendship.
"But by the time he confessed, it was too late," Azar said.
Azar said the lyrics are an illustration of what he felt from his own experience. "That was a couple of years ago," he said.
Prior to recording
According to the singer, prior to recording, he had the song's melody in his mind and its structure organised in his memory. He said he did a previous version of the song with Vision Sounds Recording Studio and Paradigm Auto Lab, and he noted they all played a major part in the hit's creation.
He explained that he was sitting in the DP Studios one day listening to the original version of the song from Paradigm when an idea came to mind. He said Pugsley and another local artiste, Richard, were also in attendance. According to Azar, Richard suggested that the song can become a major hit. "He said this song could blow up, and in my mind, I said we did well with the song," Azar noted. However, they agreed that more can be done with the song, and soon after, Pugsley started building a new track while the vocals were also recorded to match the new track. He said it took the team two months to create the hit, and soon after, the video was created to match the song.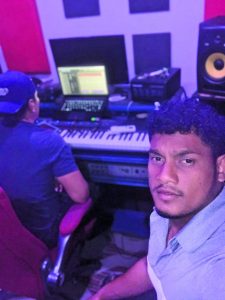 Talented videographer Keon Hector used his magic to create the video, which viewers would surely enjoy when it's released this weekend. "We took two months more to plan the video. We shot the video in one night, we had to find a model, and Kristy Kissoon, a good friend of mine, she played the lead female role in the video," Azar said.
He described the video production as being second to none, and according to him, fans will enjoy the storyline which the video exudes.
He said the song will be available on multiple social media platforms, including Itunes, YouTube, and Spotify, from this Sunday. His personal Facebook page-Azar Lalljee- as well as his fan page, Azar Music, also has links to the new hit.
More about Azar
Born Azharuddin Lalljie in December 1997, the singer is the second child of three siblings. He was also always fond of singing from a very young age, and would sing different songs while playing with his sister during their childhood years.
After completing secondary school, Azar worked on the set of the film 'A Bitter Lime' an Australian-American-Guyanese film predominantly made in Guyana. Following this experience, he was encouraged by the actors to pursue his singing talent.
Azar then entered a competition which was held at the Ramada Hotel, called Guyanese Karaoke Star, in which he won an award for the most promising contestant. The award was bestowed upon him mainly because of his ability to compose and write his own songs, which he performed in the competition.
He describes his music as promoting positivity, and he plans to continue honing his musical skills with the hope of being recognised for his talent within the industry.