Within just 75 days under the new PPP/C Administration, the Ministry of Housing and Water has launched the "Dream Realised" housing initiative that is aimed at distributing titles and Transports for house lots that were awarded to qualified persons.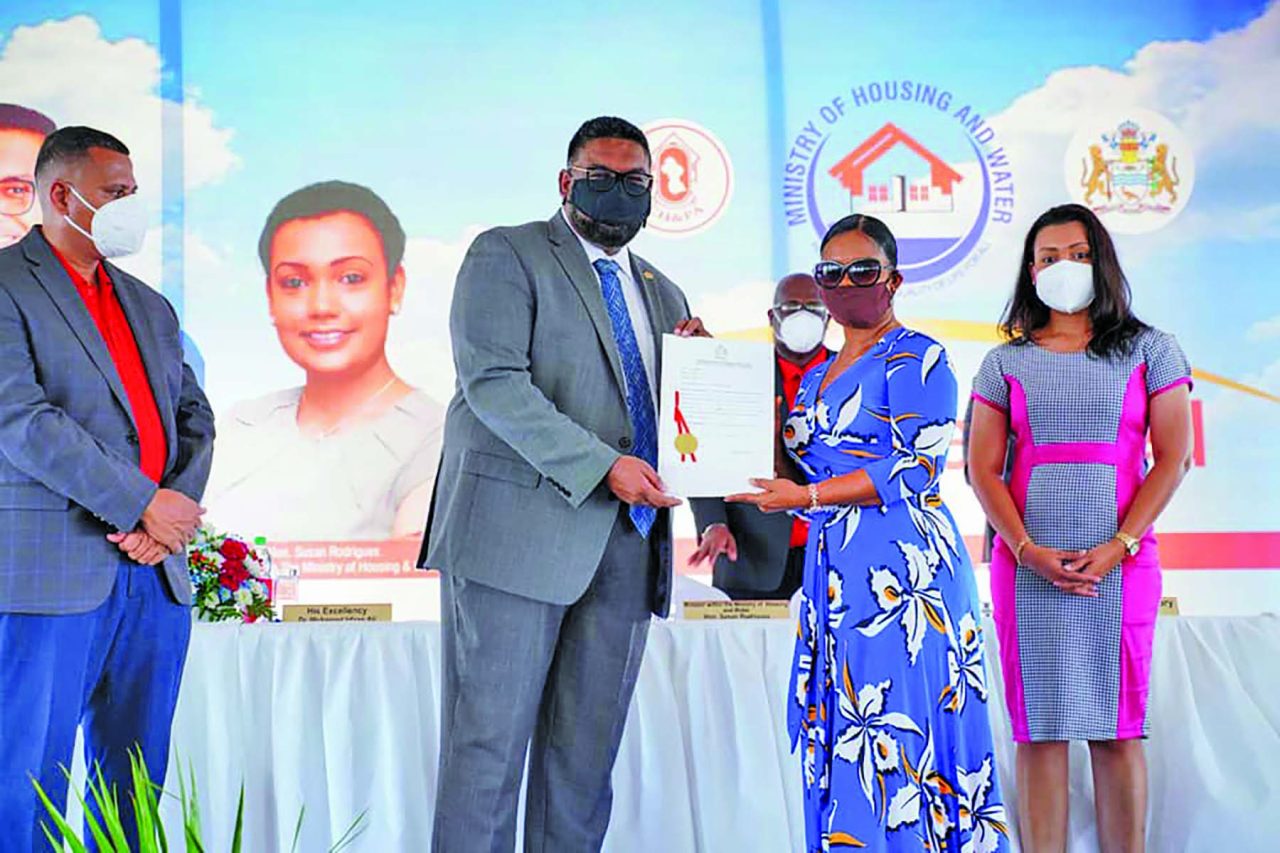 In some cases, the house lots were allotted since under the last PPP/C Government pre-2015 and those applicants are now receiving the titles.
Many of those persons who collected the ownership documents following the launch of the "Dream Realised" initiative on Friday hailed the swift processing under the new Administration.
One such person was 45-year-old Paulette Barton, who is a self-employed single mother of three.
"When I went onto Housing Irfaan Ali was Minister of Housing so it's a moment for me to collect this certificate when he's President of Guyana, and I'm grateful just not for me but for my children also that we can build our home and live comfortable," Barton stated.
She told reporters that she has been renting for over 20 years and now that she has received her ownership title, she will be moving to start construction works on her land at Peters Hall, East Bank Demerara.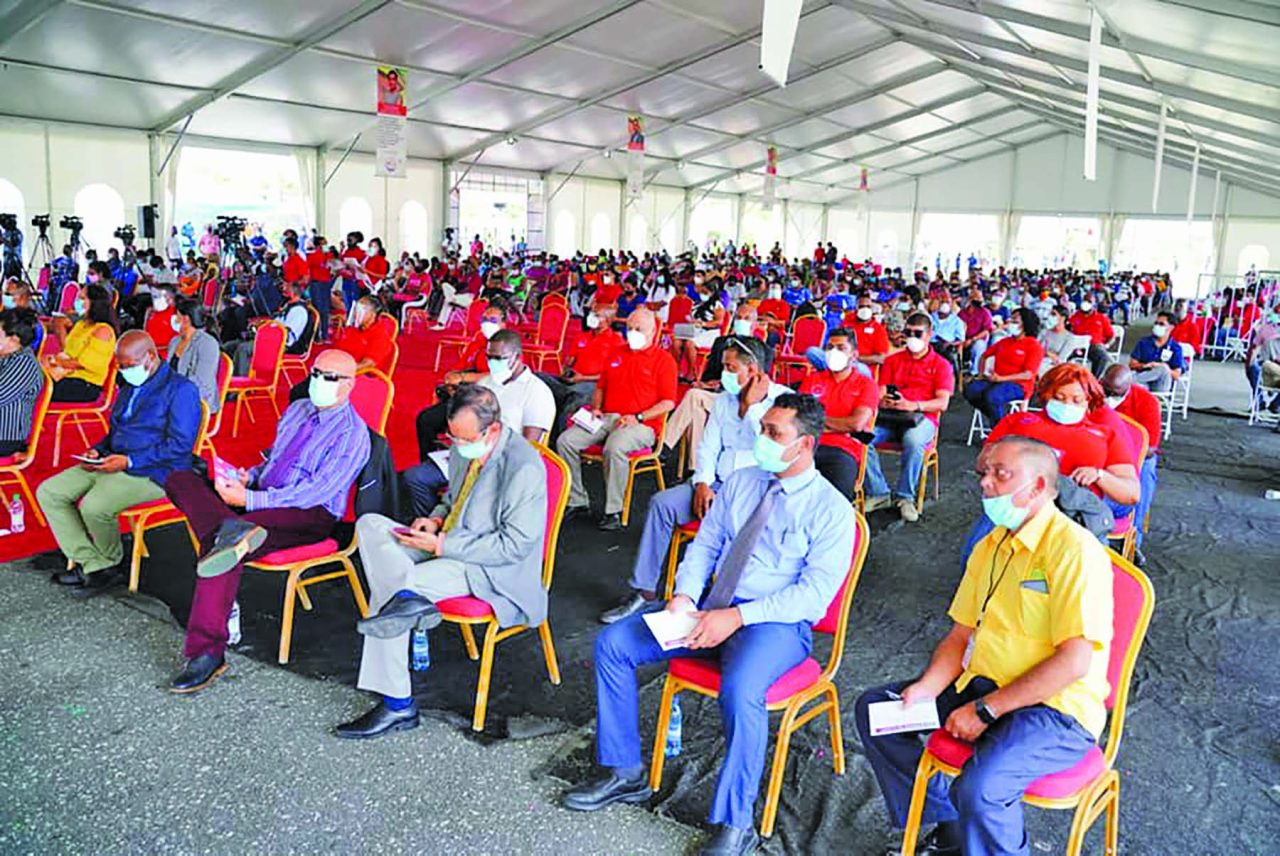 Also receiving the title for her house lot on Friday was Annavelle Gibson, a 43-year-old nurse, who also waited years to collect her ownership document. She explained that during this time, she was forced to pay rent but now would be able to build a home not just for her but her mother and sister as well.
"The rent can go towards the mortgage now and I am just so happy," the nurse noted.
Additionally, 71-year-old Devati Goberdhan also received her land title over five years after being allotted her house lot.
"I was living on a reverse [at Providence] and I wasn't getting the paper. I didn't know the house lot was there but when I had to move, I went into Housing because I wanted to get a loan but I didn't get it. But then I go back [recently] and they say the house lot there for me. So I very thankful," Goberdhan related.
Meanwhile, Claudette Abrahams, 54, told Guyana Times: "I'm so happy to be here to uplift my transport because I've waited so long. I de get through with the land but they didn't give me my Transport. So, I waited over two years and I happy to get a call to finally come and uplift it today."
Hundreds of citizens turned up at the National Stadium at Providence, East Bank Demerara, on Friday where the two-day housing initiative is being held.
The Housing Ministry had disclosed that over 350 persons would be receiving titles and Transports over the two days. In addition, the Ministry personnel are also on hand to assist persons with land applications and queries about the process.
While the initiative was focused mainly on distributing titles and Transport, scores of persons flocked at the Stadium under the impression that house lots were being distributed.
After being blocked by Police barricades from entering the area where the Ministry's assistance sites were set up on the Stadium tarmac, persons became somewhat disorderly and were admonished by President Irfaan Ali, who had attended the event to deliver the feature address at the launch, to maintain social distance and await the Ministry's staff to tend to them in an orderly manner.
"What y'all doing here is bad for yourselves. Y'all have to give yourselves space… you're exposing yourselves to death," the President cautioned while urging the persons to sit in the stands so that the Housing Ministers and their staff could tend to them.
"Let me tell you, it is 50,000 house lots we're developing… Everybody will be served," the Head of State assured.
Meanwhile, speaking at the launch of the "Dream Realised" initiative on Friday, Housing and Water Minister Collin Croal noted that this is just the beginning of Government's plan for the sector.
"Today I can stand here and proudly announce that those initiatives are no longer promises, they have become the reality under your Government, a PPP/C Government, which is committed to delivering to all of Guyana your realised dream of owning your own home… My Ministry has spared no efforts to fast-track the process to ensure that as many of you that qualify can be awarded your titles and Transport in record time. Already, our Government has reversed may of previous regimes and burdensome interventions," he posited.
Chief among these, the Housing Minister highlighted, was the imposition of value-added tax (VAT) on building materials. With this tax removed, he noted that persons can now buy building materials at a cheaper price thus giving them more buying power while simultaneously allowing them to save.
According to Minister Croal, the PPP/C Government has a wide range of plans to develop the housing sector over the next five years. But he noted that this will take some time as they seek to do so responsibly.
In addition, Junior Housing and Water Minister Susan Rodrigues further outlined that with Guyana on the cusp of an economic explosion, the PPP/C Administration will ensure that every Guyanese experience an improved standard of living.
"It is true that we have inherited many challenges, but our Government is committed to exploring all opportunities which will allow us to provide lots and homes in communities with proper roads, drainage, water, electricity, street lights, recreational and shopping centres with the aim to transform the landscape of our country, making it the envy of the Caribbean and South America," Minister Rodrigues declared.
During the two-day event, persons uplifting their titles will have the opportunity to engage commercial banks and insurance companies along with other service providers, which have also set up tents at the event to engage potential consumers.
Following this weekend's event at Providence, the Ministry together with the Central Housing and Planning Authority will be heading to Berbice. (G8)