…60 new cases detected; whopping 28 recorded in Region 4
Health officials in Guyana are already assessing the challenges that will impact the medical sector if the new variant of COVID-19 that was detected a few days ago in Brazil makes its way into the country.
Speaking during the daily update on Friday, Health Minister Dr Frank Anthony said this poses concern since it is a more transmittable form of the coronavirus.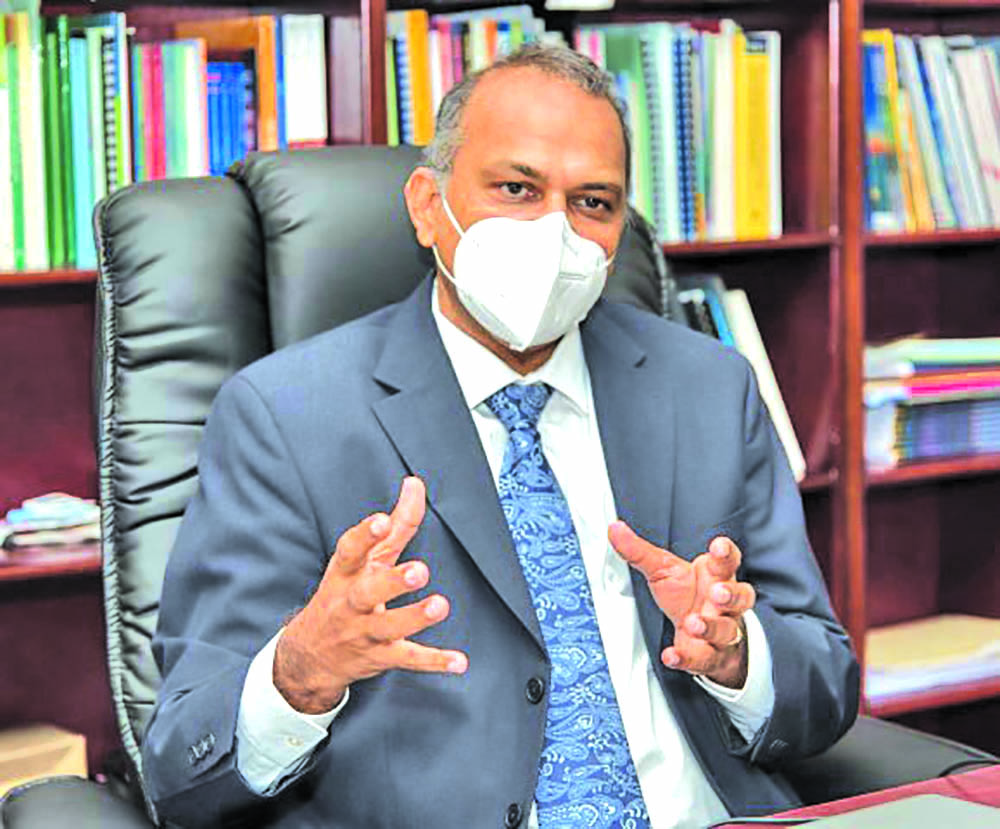 He said, "We are very concerned…If this is more transmittable, then more people are going to get infected and if more people get infected, then we can assume that we'll get a higher percentage of them coming into the hospital needing ICU care. These are going to be the challenges if this variant circulates in our country."
On the aspect of closing borders with neighbouring Brazil, he informed that the land border has been closed for some time. In fact, the Takutu Bridge which connects Guyana to Brazil is only open for the exchange of goods one day per week.
"The bridge over the Takutu [River] has been closed. We do allow on Thursdays very limited amount of interaction where goods can come over from Brazil and goods from Guyana can go across to Brazil. That is properly supervised by the health authority of both countries."
There have been instances of persons coming into Guyana illegally, prompting efforts from the Joint Services to patrol the border regions. Brazilians have also bolstered their surveillance efforts.
While more investigation is underway to get a clearer "clinical picture", the Pan American Health Organisation had said that it might have already spread to several South American territories. Genetic sequencing would have placed it in these countries, an indication that precautions should be taken even more seriously.
"PAHO has estimated that the variant might be in a number of South American countries. The reason why they would have said that is because they have a network of 21 laboratories that have been doing genetic sequencing and they've detected this variant in some of those countries. That variant is in Brazil for sure and one of the characteristics of that – it is more transmittable, meaning that you can get it more easily. That is why we will have to take precautions," the Minister positioned.
The only preventative measures against the new variant is to wear masks, sanitise and practice proper handwashing at all times. Apart from the variant in Brazil, two others were detected in the United Kingdom and South Africa.
Meanwhile, Opposition Leader Joseph Harmon on Friday said that stronger measures than the ones which currently exist should be implemented to clamp down on movement and travel from these high-risk areas.
60 new cases detected
Another 60 cases of the coronavirus were detected during a 24-hour testing period, thus bringing the total number of cases up to 6805.
As deaths remain at 170, there are four persons in the Intensive Care Unit. In the facilities, there are 55 persons in institutional isolation and 34 in institutional quarantine. Some 493 are also in home isolation. With 3492 males and 3313 females contracting the virus, 6083 of these cases have recovered completely. To date, 44,143 persons have been tested.
However, three of the new cases were recorded in Region One (Barima-Waini); six in Region Two (Pomeroon-Supenaam); six in Region Three (Upper Takutu-Upper Essequibo); 28 in Region Four (Demerara-Mahaica); one in Region Five (Demerara-Mahaica); nine Region Six (East Berbice-Corentyne); six in Region Eight (Potaro-Siparuni) and one in Region 10 (Upper Demerara-Berbice).
The cases in Regions Seven (Cuyuni-Mazaruni) and Nine (Upper Takutu-Upper Essequibo) remain constant at 563 and 403 respectively.
The Health Minister shared some insight on modifications that were made to the National Emergency Measures to allow for indoor dining. He noted that permission must be sought from the National COVID-19 Task Force Secretariat, after which the Guyana Tourism Authority will assist with certification.
He explained, "The measures, we have changed them slightly. There is a slight tweak and that is, we want to provide some form of indoor dining. Before an establishment can be granted permission to do indoor dining, they have to go through certain checks. The Task Force has been working with the Guyana Tourism Authority and that authority is going to assist in going to every indoor restaurant and they're specific guidelines for compliance."
An evaluation will be done to measure the premises and assess seating arrangements, to determine how many persons can be facilitated at 40 per cent capacity.
"Once that checklist is complied with, then that facility will be licensed to do indoor dining. If the facility has capacity to seat 100 persons, then we are only allowing 40 per cent occupancy. You're not going to have full capacity."
A sign will be posted at the establishment, indicating how many persons should be accommodated. If there is a breach, permission would be withdrawn.