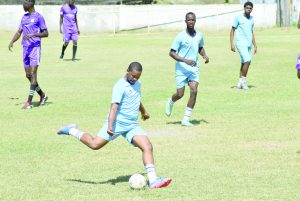 In an effort to give their staff members an opportunity to relax and display their talents outside of the office, the Guyana Water Incorporated (GWI) is in the process of hosting their second annual football tournament.
"As part of our mandate outside of providing quality service to every Guyanese, internally we try to promote a high level of comradery amongst staff, motivate them and so this is one of the many events that we keep from time to time".
Those were the words of GWI Welfare Officer Treshawn McGreggor, as he explained the rationale behind the football tournament which was hosted for the first time in 2018 and is becoming an annual event.
The tournament, which brings staff/football players from areas such as Linden, New Amsterdam, East Bank, East Coast and West Coast Demerara, will feature eight teams vying trophies and other prizes. Additionally, a special team, the MD's XI, was set up to give players from Bartica and other far reaching areas, a chance to be a part of the action.
With the competition beginning last weekend at the Transport Ground, the tournament continued yesterday at the Georgetown Football Club (GFC) Ground and is expected to conclude around the September 21.
When questioned about who can participate, McGreggor explained that the rules were relaxed this year to include other persons who are associated with the company.
"All of the players on each team are one way or the other affiliated with GWI, we have reduced it somewhat to allow persons who are affiliated, not necessarily directly. So you find we have bus drivers, they are contracted workers, they are allowed this year," McGreggor explained.
The organising body consists of McGreggor, Charles Greaves, Toleta Wray, Seon Hescott and others. Defending champions East Coast are currently leading in the 2019 tournament, followed by the Georgetown Outfit.