Hadi's World Incorporated – a subsidiary of Mohamed's Enterprise – and China Harbour Engineering Company (CHEC) have partnered to supply one million tonnes of aggregate on an annual basis to the Guyanese market – filling a crucial demand as the construction sector takes off.
Managing Director of Mohamed's Enterprise, Nazar 'Shell' Mohamed, on Thursday inked the agreement with the Regional Business Manager of CHEC, Sammy Chan. A US$25 million quarry project was also signed with CHEC to cater to the needs of the country's booming construction sector.
"Recently, the Vice President would have said that the kind of expansion that is going on and the kind of development that is going on, we would need over six million tonnes of stone, and it would be growing much more than that. So, we have decided that we would be a big part of the market," Mohamed told the media at the signing ceremony on Thursday.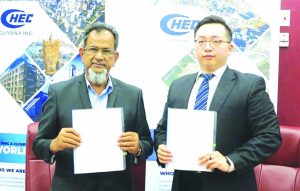 In fact, in June 2021, Hadi's World Inc. secured its quarrying licences from the Natural Resources Ministry for Kwapau Quarry Areas 1 and 2, and ATANA Quarry Blocks 1 and 2 in the Mazaruni Mining District 3, after receiving the green light from the Environmental Protection Agency (EPA).
One year later, the company signed a long-term Memorandum of Understanding (MoU) with CHEC to establish the quarry, where the Chinese company would produce boulders and quarry aggregate for local and foreign construction markets.
Mohamed told Guyana Times that they are preparing for their first blast soon, and are eager to become a major player in this market.
"We've done a lot of work. We've dredged the river so that the barges can go in, and it was a huge cast over. We've already acquired all the explosives, so we're ready. We've cleared the land, and very soon, we will have our first blast, where we would start producing boulders for sea defence projects, and hopefully for the NRG project that is ongoing at the mouth of the Demerara River."
A few months ago, Vice President Bharrat Jagdeo had indicated that massive road projects for the public sector in 2023 will require a whopping six million tonnes of aggregate and while this is viewed as a positive sign, Government is now faced with the challenge of meeting these demands.
At the national level, the country can produce about 600,000 tonnes, representing just 10 percent of the demand. For this, he had shared, Government was exploring various options to keep the construction sector going. Neighbouring countries such as Suriname and Trinidad are also unable to fulfil these needs.
In 2023, the Ali-led administration will be focusing heavily on community infrastructure, having mobilised major projects within the last two years.
"We may have to explore bringing in stone from Canada or some other part of the world if we want to keep the building programme going for the Government sector," Jagdeo had shared. (G-12)