The action took to the field over the weekend as the Kings of Studies Tournament 2019, organised by University of Guyana student Jafar Gibbons, was contested at the University's Turkeyen Campus.
Top Strikers and Hard Knocks battled in the finale with either side not finding it easy to gain the upper hand. However, Jamaine Samuels scored two goals in the last two minutes to give Hard Knocks the inaugural tournament title.
The Most Valuable Player (MVP) of the tournament was Samuels, the Hard Knocks' Captain, who claimed the gold ring and a trophy and also walked away with brand new shoes from local company Signature Moov as he scored the most goals in the tournament, ending with eight.
Meanwhile, Five-O defeated Kanaima FC in the third-place encounter 1-0 thanks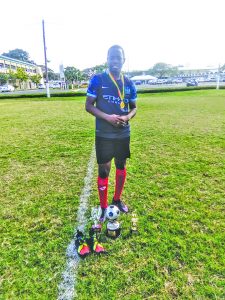 to the efforts of Nathaniel King.
In the semis, Kanaima FC had battled Top Striker in a fierce encounter, but the latter prevailed 3-0. Scoring for Top Strikers were Oprah Benjamin (2) and Sherwin Caesar (1) to lead the Strikers into the final. Semi-final two featured Hard Knocks winning by the same margin against Five-O in a gritty encounter.
Earlier in the day, the quarter-finals saw Kanaima take on Hot Topic, Goonz duking it out with Top Strikers and Hard Knocks and Hardball thrashing it out while Five-0 were given a bye as they topped Group C.
Kanaima FC tied 2-2 with Hot Topic which resulted in a penalty shootout. The shootout saw Kanaima winning 3-1.
In the other quarter-final match-up, Goonz FC took on Top Strikers which resulted in Top Strikers winning 2-0.
Hard Knocks and Five-0 took to the field as the teams were desperate for a win, but Hard Knocks won 6-0 after scoring multiple goals in the last two minutes. Exploiting the tournament rules which states, 'a goal in the final two minutes of play is worth two'.
Much earlier, the preliminary 10 matches kicked off with Hardball and Goonz FC battling to a goalless stalemate.
The next match featured Top Strikers FC and Roaring Underdogs which saw the victory going to Top Strikers 6-1; Kanaima FC defeated Hard Knocks 2-0 and Hardball battled Juventus, but that match ended in a goalless draw.
The next encounter saw Hot Topic FC and Five-0 battle with the latter winning 5-1.
The other matches in the preliminary stages saw notable victories coming from Kanaima FC, 5-0; Goonz FC; Hot Topic FC; and Top Strikers to round off the qualifying matches.