– says Minister Vickram Bharrat of Rampertab Ramnauth
Natural Resources Minister Vickram Bharrat, as Patron of the Berbice Cricket Board (BCB), recently presented a bat to West Indies youth player Rampertab Ramnauth during a recent inter-county match at La Bonne Intention.
"I know that these youngsters at the under-19 level will need some kind of motivation and support. Being a Berbician myself, I know the situation in Berbice, and I know the encouragement that is needed at this tender age," Minister Bharrat has said.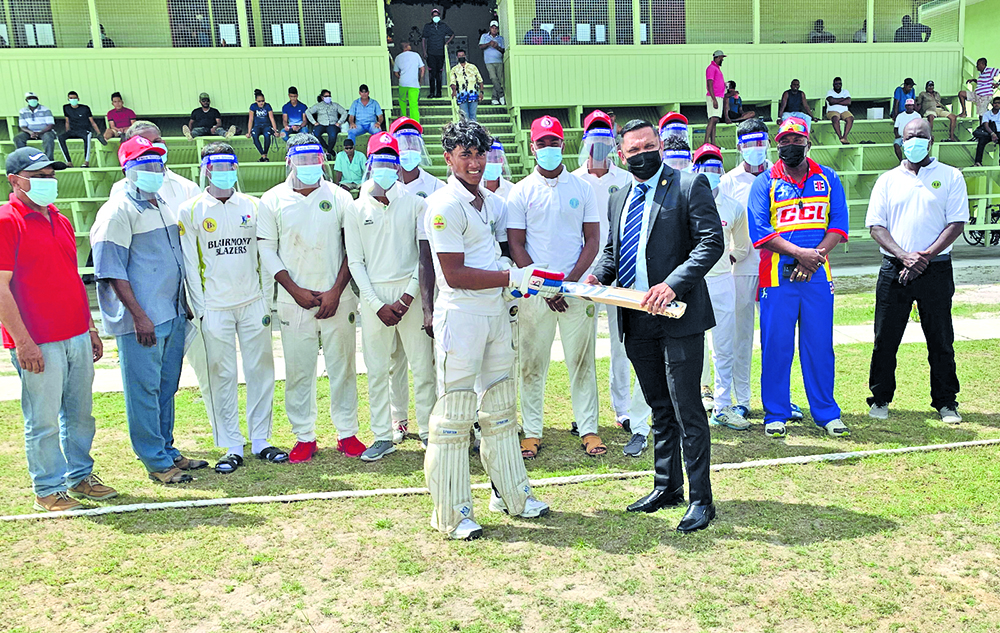 Classy and highly talented, the left-handed batsman Rampertab Ramnauth has already represented the West Indies Under-15 team in England, and is tipped to further represent the West Indies youth teams.
"He is one of many bright prospects in Berbice, someone we can nurture and we can ensure he explores his full potential, possibly making it right up to West Indies cricket. This is just a way of motivating him," Minister Bharrat has said.
Minister Bharrat has promised to continue supporting Rampertab in any given way. He also noted the importance of education, and has said he would be seeking help to assist Rampertab financially, since it is important to balance academics and sport, because there is life after cricket.
"At the same time I am encouraging him (Rampertab) to do well on the cricket field, I am encouraging him to do well in education," the Minister has said.
Earlier, when Minister Bharrat was named Patron of the BCB, he donated $1M to the BCB, along with cricket gear to small clubs in Berbice.
"We have made significant contributions to BCB already, and we will continue to do that. There is a semi-professional cricket league that should start later in the year, so we are working to ensure that is successful. This is all part of my way of giving back to Berbice, since I am originally from Berbice, and cricket has always been the game I love," Minister Bharrat disclosed. (Brandon Corlette)