Parents of pupils who attend the Mon Repos Primary School on the East Coast of Demerara on Tuesday protested the administration's recent move to ban them from entering the school to visit their children since a laptop went missing.
According to the upset parents, a meeting was held with them on Monday where it was announced that they will no longer be able to visit the children during the day or even enter the school to pick them up or drop them off as a result of the missing device.
The fuming parents complained that this drastic step would serve as a major difficulty since a lot of their children, especially those in Grade One, depend on their parents to use the washroom and even eat.
Rekha Singh, a mother who has two children attending the school explained that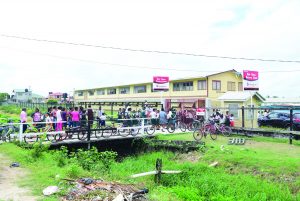 one of them is in Grade Two while the other is in Grade Five. She said, "My Grade Five child is a sickly child and I cannot enter the compound to take lunch for them. This morning (Tuesday) they tell us we cannot go in".
That parent argued that she, like others, has no idea what was lost and would like to be able to enter the building as per normal again.
Priscilla Sukhnandan, another parent, explained, "My daughter is in Grade One and she doesn't eat on her own. She only start (school in) September and apparently, you have to give the guard your ID (Identification) card to go in there. I don't know if is a jail your children in or what".
She complained that the teachers are habitually late so parents are usually forced to stay in the classroom with the children until they arrive because the children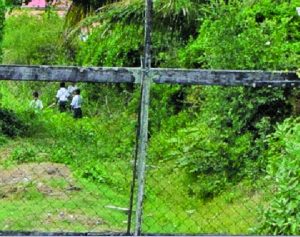 would resort to mischief.
The parents said they would be willing to use a visitor's or parent's badge, if the school provides, just so they can be with their children.
Meanwhile, another parent, Randolph Bissram told this newspaper, "If you hear cry this morning, them (children) don't want to go in which in them mother is go and put them in them class and see them guh".
Bissram called for the removal of the Head Teacher as he blamed and accused her of being the root of corruption at the institution. According to him, he attended the very school and never experienced an issue.
He complained that the present Head would usually victimise children if their parents speak out, while also alleging that she controls all the Parent Teacher Association (PTA) funds.
Although she controls these funds, the parents pointed to the fact that just recently the school bridge got partially damaged and even injured a child in the process. The bridge is yet to be repaired, the parents informed.
They also stressed the fact that their little ones are forced to play in a bushy and unsafe environment, which is likely a habitat for harmful reptiles.
Those parents are calling on the Education Ministry to make a speedy intervention into the issue.
When contacted, the Education Public Relations Officer assured that he would look into the matter.
Earlier this month the Ministry was forced to intervene in a similar matter at the Diamond Primary School on the East Bank of Demerara.
Guyana Times understands that the ban on parents was imposed after a teacher reported that she allegedly lost her laptop there as well.
After a publication was done by this newspaper, an intervention was done by the Ministry which led to the parents being allowed to enter the premises again.