…but cost poses a challenge
In exploring new ways of combatting the COVID-19 pandemic, the Health Ministry is monitoring the use of monoclonal antibodies and the potential of using it locally.
In Monday's COVID update, Health Minister Dr Frank Anthony outlined that while it is being used in other countries, the drug is quite expensive. Moreover, it works differently depending on which variant is circulating.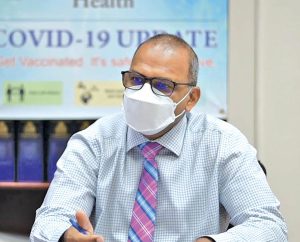 "At some point, we'll try to get it. monoclonal antibodies are very expensive. More recently with the Omicron variant, they're not working as effectively. Depending on the variant that is circulating, you'll have to look at what monoclonal antibodies and how they will work," said the Health Minister.
He noted that one company has managed to create the antibodies with some proven success against the new variant.
Monoclonal antibodies are laboratory-made proteins that mimic the immune system's ability to fight off harmful pathogens such as viruses. Tixagevimab and cilgavimab are long-acting monoclonal antibodies that are specifically directed against the spike protein of SARS-CoV-2, designed to block the virus' attachment and entry into human cells. Tixagevimab and cilgavimab bind to different, non-overlapping sites on the spike protein of the virus, the US Food and Drug Administration has reported.
A few days ago, the FDA authorised the use of AstraZeneca's antibody cocktail to prevent COVID-19 infections in individuals with weak immune systems or a history of severe side effects from coronavirus vaccines.
Evusheld is only authorised for adults and adolescents who are not infected with COVID-19 and have not recently been exposed to an infected individual.
It comprises of two monoclonal antibodies, Tixagevimab and Cilgavimab. In November, AstraZeneca agreed to supply the US Government with 700,000 doses of Evusheld, which had earlier shown to cut the risk of people developing any COVID-19 symptoms by 77 per cent.
Director of the FDA's Center for Drug Evaluation and Research, Patrizia Cavazzoni said, "Vaccines have proven to be the best defence available against COVID-19. However, there are certain immune-compromised individuals who may not mount an adequate immune response to COVID-19 vaccination, or those who have a history of severe adverse reactions to a COVID-19 vaccine and therefore cannot receive one and need an alternative prevention option."
Pre-exposure prevention with Evusheld is not a substitute for vaccination in individuals for whom COVID-19 vaccination is recommended. The FDA has approved one vaccine and authorised others to prevent COVID-19 and serious clinical outcomes associated with a COVID-19 infection, including hospitalisation and death.