GFSCA/Well Teen, Trophy Stall, Tropical Springs & Nauth Motor Spares U13 tourney
The Guyana Floodlight Softball Cricket Association (GFSCA) continued its Well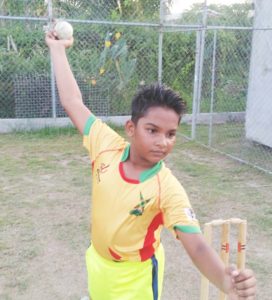 Teen/Nauth Motor Spares/Tropical Spring/Trophy Stall U-13 25 Overs-per-side Competition with two matches in Berbice. After the matches that were played at the Rose Hall Town ground, it was Blairmont Cricket Club, Demerara Cricket Club (DCC), Georgetown Cricket Club (GCC) and Transport Sports Club advancing to the final four.
Rose Hall vs Blairmont
Blairmont CC 112-7 in 25 overs with knocks from; Sredath Roopnarine (29), Antwone Alexander (10) and Zynol Ramsammy (7). Rose Hall bowling was led by Jonathon Rampersaud's 3-7 and Lucus Arthur 2-26.
Rose Hall in reply were bowled out for 76 20 overs Shivnarine Ramnarine 16, Lucus Arthur 13 and Jonathon Rampersaud's 11.
Blairmont won by 36 runs were indebted to; Hemchand Ragbeer 2-8, Sredath Roopnarine 2-16 and Antwone Alexander 2-23. Roopnarine was named Man of the match.
GCC vs Rose Hall
GCC made 155-9 in 25 overs thanks to Rivaldo Phillips 51 and Sanjay Persaud 44 runs a-piece. Rose Hall bowling was led by Lucus Arthur who claimed 5-27 for his team who raced to 156-3 in 21.4 overs to win comfortably by 7 wickets. MVP, Lucus Aurthur's 43 and Jonathon Rampersaud's 30 lead the way.
The Semi- finals will be held on Saturday October 14 at the DCC Ground, with the number one team Blairmont playing Transport Sports Club from 15:00h while hosts DCC take on archrivals GCC from 18:00h.
All teams in the round-robin tournament played six matches and accumulated the following points; Blairmont CC 94 points, DCC 90 points, GCC 87 points, Transport SC 77, Rose Hall Town Sports Club 62 points, GYO 58 points and Everest CC 23 points.