…over 60 households affected
Over 35 homes have been affected by flooding in Region 10 (Upper Demerara-Berbice) as a culvert overtopped at Coomacka Mines on Monday afternoon. Additionally, some 30 homes were affected at Old England as heavy rainfall persisted. This also led to the breakaway of the main access road to Three Friends Mines as a result of erosion.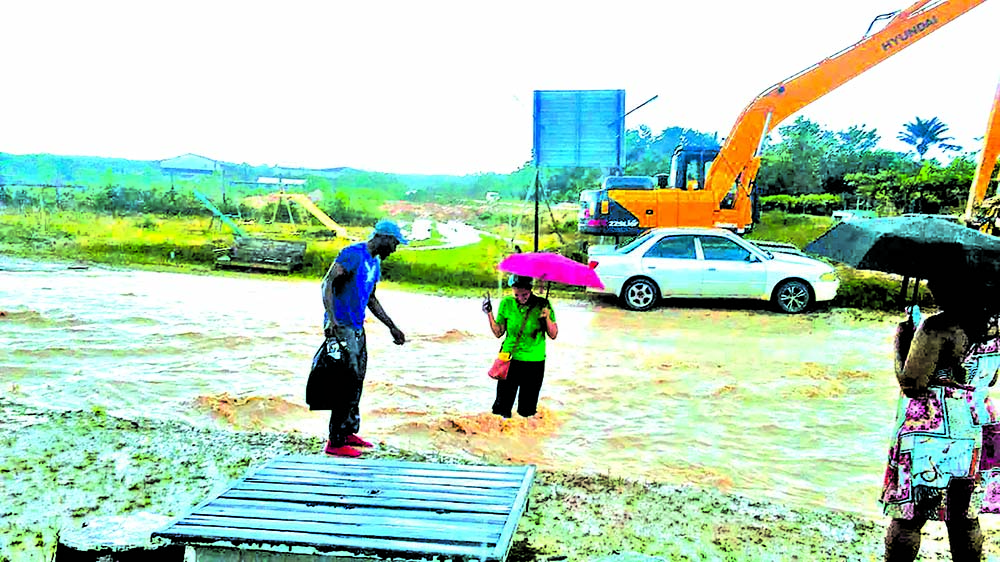 An engineer from the National Drainage and Irrigation Authority (NDIA) visited the scene on Monday evening, followed by other officials on Tuesday. Residents said while the Coomacka area has been flooded as a result of the situation in the past, the volume of the water had increased tremendously.
"The water came up so high…it's the volume that shocked us…normally it would recede in a very short time but today it took forever. Even after the rain stopped, it took a while," a resident told this publication.
Chairman of the Coomacka Community Development Council (CDC), Dexter Harding said the main road to Central Coomacka has been severely damaged and is impassible as a result. He noted that they were in the process of securing materials for emergency works to be conducted.
"The Minister of Agriculture visited the community about a month ago and we gave some recommendations, and the Minister pledged to send an excavator. We received the excavator already. (We) start some clearing of the main drains and we're waiting on some tubing…the main drains that were opened assist a lot but we were waiting on the tubing. It seems we will achieve some results by Friday," Harding said.
He noted that the tubings will be received through the Public Works Ministry while the work will be done through the NDIA.
Meanwhile, representatives of the Civil Defence Commission, the National Drainage and Irrigation Authority (NDIA) and the Regional Democratic Council (RDC) visited the communities on Tuesday and assessed the situation on the ground. The CDC also handed over 75 cleaning hampers. Also present were Regional Vice Chairman Douglas Gittens and RDC Councillor Norris King.
"They did a thorough assessment and by Friday we're going to have the tubing to start to install…once we put it at strategic points it's going to alleviate the flooding a lot," Harding said as he reiterated that he is optimistic that systems will be put in place on Friday.