By Akeem Greene
At 20 years of age, talented Guyana Jaguars top-order batsman Shimron Hetmyer made his Test debut for West Indies last month against the touring Pakistan and showed great signs of a future star in the making with some sumptuous stroke-play.
But the elegance and aggression did not correspond with a flurry of runs, since in his three Tests, he had a high score of 25 and accumulated 96 runs in six innings.
Looking back at the flamboyant left-hander's dismissals, many came from injudicious shots and at times, lack of patience.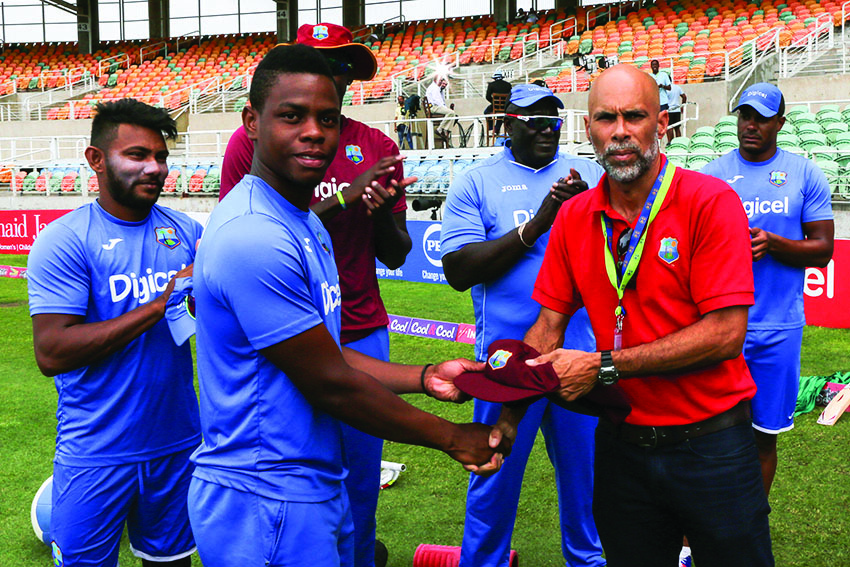 Optimistic of getting the nod for the August-September tour of England, the player told Guyana Times Sport that he would remain positive in his approach to constructing a Test innings.
"I will try to approach it not necessarily the same way, but I'm not trying to change how I approach my game, because some people went into Test cricket one way and they changed; I probably need to tighten up on some stuff," the Berbician posited.
England is known for causing trouble to numerous batsmen due to the temperature and exaggerated swing movement, which could pose a serious headache for Hetmyer if selected. However, the victorious West Indies Under-19 World Cup Captain is no way daunted by the challenge.
"It [England] probably might suit my style of batting a bit more because I love the ball coming-on; it is just the swing aspect I think I need to work on."
In the series, he had his stumps disturbed four times, once by leg spinner Yasir Shah and the others by balls which were angled in to him by left-arm seamer Mohammed Amir. Though the dismissals hinted at a technical flaw, the batsman said it was more about him misjudging the length of the ball.
"I wouldn't say it is a weakness; it is just how I judged the length of ball. With these pitches in the Caribbean, some of the lengths, the ball would bounce and some, it would keep low, but I don't see it as a weakness; it was about me and my decision at that time," he explained.
Prior to the first Test at Sabina Park, the Young Warriors Cricket Club player had scored a high-temp 97 in the tour match. In explaining his varying level of success against the same opponent in similar conditions, he stated it was down to the visitors taking the International match "more seriously". Hetmyer, who has just played 21 First-Class matches, scoring one century and six half-centuries, opined that he was comfortable with his batting position in the West Indies team.
"I was comfortable with where I was batting. It was not too bad a start for me, considering it being the first time; I just know I have to work a bit harder on my game and technique."
With a large number of the West Indian players on the series now finding their feet in the Test arena, the batsman felt relaxed with making the step up to international cricket.
"It was a good experience for me. The players are gelling with each other quite well and being a new player in the team, I felt really comfortable with the guys that I played with in four-day and 50-over cricket; knowing I had some Guyanese [Devendra Bishoo and Vishaul Singh] who I have been playing with for the last two years also made it comfortable".
Retracing the moment when he collected his precious maroon Test cap from former Captain and current Cricket West Indies (CWI) Director of Cricket, Jimmy Adams, he said it was a dream come true.
"It was just a tremendous feeling for me, working from since I was 11 years old and to actually make the team. It was just something I was thinking back about and the hard work I have been putting in played off."
Now that he has had a taste of international cricket, the player was questioned about his desire to play the other formats.
He responded: "I'm just focusing on one thing at a time, focusing on getting my Test stats up and getting runs under my belt before paying interest on other formats."
West Indies lost the three-match series 2-1, allowing Pakistan to win a Test series in the Caribbean after 50-plus years.
Despite the team's constant struggles to be a dominant and consistent force in the international arena, Hetmyer called for patience from the frustrated West Indies fans.
"Hang in there with us; it is a new and young bunch of guys and we are working very hard to make sure that the West Indies get back on top of world," he stated.