By Brandon Corlette
The Guyana Jaguars number five batsman, who is also one of the many all-rounders in the strong Jaguars team, has been among the inconsistent performers.
In a team that have been successful, Barnwell has not delivered the goods required of him in recent times. Barnwell, who played the first three rounds of the 2018-2019 Cricket West Indies (CWI) Regional 4-Day Tournament, has found himself out of the starting XI in the fourth-round match versus Volcanoes at Providence.
In the first three rounds this season, Barnwell has 136 runs with one half-century to his name. Batting at number five in a team with a great bench, the experienced Barnwell has not lived up to his expectations. With Anthony Bramble batting below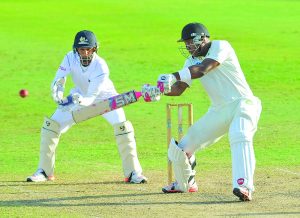 Barnwell in the earlier rounds, the Berbician, who has two centuries in four rounds this season ,may make the number five position his own.
Barnwell has 48 First-Class matches beneath his belt with one century to his name and nine half-centuries, averaging 23.68.
He has only one century in any format playing for Guyana at the Regional level and his bowling record is not a breathtaking one. In Barnwell's 48 First-Class matches, he has been called to bowl, and he has produced important breakthroughs for his captain.
However, his overall bowling record speaks otherwise. He has 72 wickets in the 80 innings he has bowled and he averages 34.16 with a strike rate of 59.
The 32-year-old who celebrated his birthday four days ago may be running out of time, but it's not too late for him to be a consistent performer for the Jaguars. With the likes of Clinton Pestano, Sherfane Rutherford, Romario Shepherd, Keemo Paul, and Raymon Reifer being seen as all-rounders, Barnwell may have to work hard to earn his position in the starting XI when all these players are available.
Barnwell, who made his First-Class debut in 2009, has been in and out of the First-Class team. In the 2016-2017 Professional Cricket League (PCL) Regional 4-Day Tournament, he played four matches.
He scored one half-century but averaged 18.16 with the bat, striking at 43.16.
If Barnwell is a number five batsman who is an all-rounder in a strong Jaguars team with such an inconsistent record, he will be required to impact the game with bat and ball. His teammates Pestano, Reifer and Shepherd have impacted the game significantly and played a role in the Jaguars winning matches.