The power supply along the coastal plain was disrupted for several hours on Wednesday, following heavy winds and rainfall in the morning.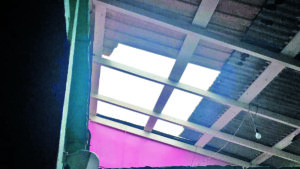 Scores of communities were awakened by the combination of rain and winds, which ripped apart several structures and left households without electricity.
The Guyana Power and Light (GPL) Inc later indicated that this was a result of infrastructural damage which the company suffered. As such, personnel were dispatched to monitor the situation and restore power.
The utility company said in a notice, "Due to high winds, burst power lines, fallen poles and other infrastructural damage have been reported…Teams have been dispatched to conduct remedial work."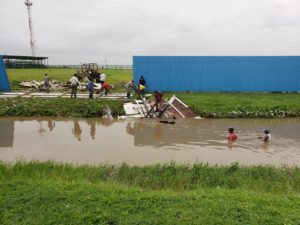 After a few hours, electricity was restored to most areas with the exception of sections of Georgetown, the East Coast of Demerara and Berbice. These were later repowered as remedial works continued.
Following the heavy showers, communities in low-lying areas, primarily in Regions Two (Pomeroon-Supenaam) to Five (Mahaica-Berbice) also experienced some degree of flooding.
Billboards were uprooted and homeowners suffered losses after their roofs were sent flying.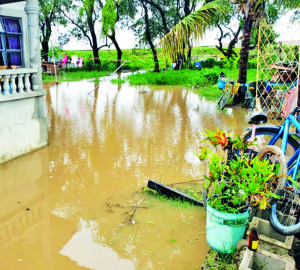 The Civil Defence Commission (CDC) indicated that it was able to make an assessment of the possible damage incurred during the storm through its National Emergency Monitoring System (NEMS).
"Much of the weather conditions started around 03:00h and lasted until shortly after 06:00h. Several yards were flooded, but it was observed that the waters were quickly receding with no significant damage reported," the CDC report indicated.
There were sporadic reports of slight damage that were controlled by householders while three households in Vryheid's Lust, Success and Lamaha Park in Region Four (Demerara-Mahaica), and two at Westberry and Line Dam, Queenstown on the Essequibo Coast, Region Two suffered varying degrees of damage to rooftops.
There was also further damage to public infrastructure, with live wires ripped from main poles to private homes at De Groute, West Bank Demerara and the commentator's booth at Uitvlugt Community Centre Ground collapsing.
Bartica, Region Seven (Cuyuni-Mazaruni) reported severe flooding and teams were mobilised to offer support.
Meanwhile, testing for COVID-19 was also delayed, as the lab was unable to process any new samples collected during the day.