Renewable energy
The Hope Wind Farm project may be nearing a final agreement, with the Parliamentary Sectoral Committee on Foreign Affairs being informed during a sitting on Friday that the developer is eyeing a project launch date in 2019.
At the Committee meeting, agencies under the Ministries of Public Infrastructure and the Presidency were grilled on Government policies for renewable energy. Guyana Energy Agency (GEA) economist Shevon Wood, a part of the panel of technocrats, was asked by Member of Parliament, Nigel Dharamlall for an update on the project.
"That project required a lot of technical approvals and information. Because of the existence of a grid code, there're protocols that have to be followed to which the Ministry of Public Infrastructure is engaging the developer to have that done. But it's a process, stability studies and all that are part of the process. Once that is completed, then we can move (on). So that's where it is right now," Wood said.
However, Dharamlall further probed the team on what infrastructure has been laid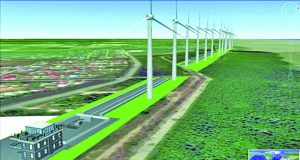 down at the site. Initially, Wood affirmed that this would be up to the developer itself. But Energy Advisor to the Public Infrastructure Ministry, Kiran Mattai, who sat in at the meeting, revealed that there was indeed a timeframe.
"The developer provided a roadmap, if I recall correctly. But I believe the commissioning date for that was by the end of next year. What I can add is that the Ministry is continually engaged with the developer undertaking this project.
"This is a generational project. On account of that, there were lots of things that were outstanding at the time. At this point in time, the discussion is actively ongoing. There are a couple of agreements that are being reviewed by development technical parties. But this particular developer has been quite committee to ensuring there is compliance with the grid code."
Months after it took office in 2015, the coalition Government had announced that it would facilitate a US$50 million, 25-megawatt wind farm project at Hope Beach on the East Coast of Demerara.
The Alliance For Change (AFC) subsequently identified International Pharmaceutical Agency (IPA) proprietor Lloyd Singh, an investor in the wind farm, as responsible for the party's acquisition of its multimillion-dollar headquarters in February of 2016. AFC co-founder Khemraj Ramjattan had identified Singh as the one who provided the party with the advance for the property.
While not as stable as hydropower, wind energy generated by turbines is a form of renewable energy. But the Hope Beach Wind Farm project, at 25 MW, is still no match for the proposed 165 MW Amaila Falls Hydro Project initiated under the previous Administration.