Veteran marksman Harold 'Top Gun' Hopkinson, returned from Grenada where he represented the Guyana NRA Smallbore Section and IPSC Guyana with distinction, having participated in the Grenada Gun and Rifle Association's Second Annual six Stage, Level 2 IPSC competition, held at the associations range.
Hopkinson started the precision shooting category placing 7th from 15 seasoned shooters despite having a zero stage due to not having full functionality of his right hand.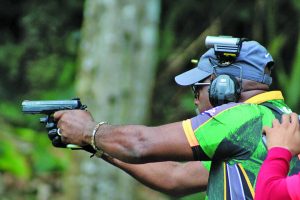 In the IPSC sanctioned Level 2 competition, Hopkinson was successful as he won the B Class, topping the senior category. Shooting his newly acquired CZ Shadow 2 for the second time, Hopkinson said he was astonished after placing third overall, over seasoned shooters despite enduring a disastrous first day.
The veteran marksman said he had to dig deep and focus on the second and final day. When the results were read at the presentation held at Dragon Bowling Alley, Hopkinson found out that he was only bettered by Barbados' Regional Director and shooting sensation Keven Grant who won the event and Trinidadian Walt Reid.
Hopkinson who normally competes in the Super Senior category, designated for persons over 60 years of age, overwhelmed everyone by winning Stage 6, named "Telephone Call". Competitors were required to shoot 6 IPSC Targets and 3 plates; these were adorned with Two No Shoot penalty targets.
The other stages were, 1- Forest Monkey, 2 – 2 part IPSC Classifier, 3 – the Peep Hole, 4 – 60 point 12 round IPSC Classifier and 5 – "Breakfast Time". The championship was attended by competitors from Barbados, Trinidad and Tobago.
Hopkinson, the lone shooter from Guyana was sponsored by Secure Innovations and Concepts Inc., Guyana's premier aviation, land and Sea security service.
Meanwhile, Hopkinson and Mohamed Qualander will be representing the Guyana NRA at the IPSC World Shoot to be held in August in France. Hopkinson is publicly expressing gratitude to the Commissioner of Police Mr. Seelall Persaud, DSM and Commissioner General Guyana Revenue Authority Mr. Godfrey Statia, for expediting the necessary permits for the smooth export and import of his firearms used in these competitions.