A 60-year-old housewife, who was trying to earn an income by "punting" in a gold mining pit is now dead after the walls caved in.
Dead is Retta Samuels of One Mile, Arakaka, North West District, Region One (Barima-Waini).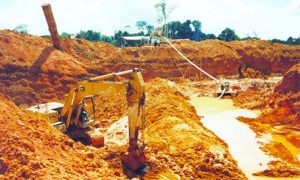 Reports are that on Friday between 15:30h and 16:00h, the woman along with several others were "punting" (trying to find gold from the tail end of a dredge) in the Locus Backdam in Arakaka.
Reports are at about 14:00h, Samuels was working in a pit owned by a 45-year-old gold miner. During the process of washing down (final process) the pit walls collapsed.
As a result, Samuels became trapped below the mud and water for a lengthy period, and by the time persons were able to dig through to rescue the woman, she was motionless.
She was immediately rushed to the Arakaka Health Centre but was pronounced dead on arrival.
According to the police, Samuels' body is at the Arakaka Health Centre Mortuary and arrangements are underway for it to be transported to the Port Kaituma Hospital Mortuary for a post-mortem examination (PME).
Just a few months ago, a teenage miner died after the mining pit in which he was working caved in, covering him with rubble.
He was identified as 18-year-old Emanuel Narine of La Grange, West Bank Demerara (WBD).
Reports were that Narine had been working along with others in a mining pit at Oko Baramally, Sand Hill Backdam, Region 10, when the pit caved in, completely covering him.
At that time, this newspaper was told that the impact of the rubble falling on the teen broke his neck and caused his demise.
The teen's brother, Orwin Narine, took three hours before he was able to reach the police to report the incident. Due to the location and the amount of slush, Narine's body was left in the backdam for almost two days before it was retrieved. In February, 17-year-old Mazaruni miner Romeo Ruben lost his life when the walls of a mining pit in which he was working caved in at Gold Hill Backdam, Upper Mazaruni.
Meanwhile, another miner, 54-year-old Timothy Hunter of Jawalla Reservation, Upper Mazaruni, lost his life on January 31 last.
Based on information received, Hunter along with others were working in the pit when a wall suddenly collapsed, covering him in the process. The other workers reportedly attempted to get him from under the debris, but by the time they did, he had already succumbed.