The prosperity of a country is determined by its human resources capital, which must be regarded as equally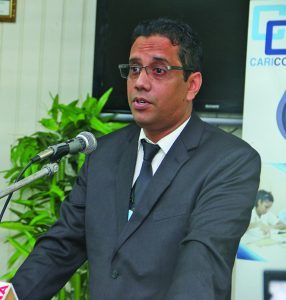 important as financial capital.
This was underscored during consultations on a strategy aimed at enhancing the country's human resources capacity.
Acting Chief Education Officer (CEO) Marcel Hutson, in the opening remarks, explained that education and human resource development were critical elements in unlocking Guyana's potential.
"Human resource development is the most vital area for the Caribbean Region because ideas for innovation, quality and continuous improvement, as well as other critically important inputs needed to compete in the highly competitive world come from people and not from machines," he explained, as he emphasised the need for prudent investment of the country's human resources.
The initiative, titled the Regional Education and Human Resource Development Strategy, was coined by the Caricom Secretariat and consultations on the draft document were held on Monday in collaboration with the Education Ministry at the National Centre for Education Resource Development (NCERD) in Kingston.
Programme Manager Eduardo Ali, in giving an overview of the strategy, disclosed that it comprised four strategic objectives.
The first is to ensure a culture of innovation and entrepreneurship is fostered within Caricom Member States.
Secondly, developing people to ensure they contribute to regenerative societies which are continuously improving.
Thirdly, to eliminate wastage in the education system by remedying the number of inefficiencies in the various education models, which often have mismatches with the labour force.
And the fourth objective is to ensure the labour force is provided with the necessary training and skills to contribute significantly to society.
Furthermore, there are two critical areas of concern for the strategy, which fits into the broader mandate of the United Nations' Sustainable Development Goals (SDG).
According to the Programme Manager, the primary focus of the strategy is SDG Four: Ensure inclusive and quality education for all and promote lifelong learning.
The second is SDG Eight: To promote sustained, inclusive and sustainable economic growth, full and productive employment and decent work for all, which, he said, works hand in hand with SDG Four.
Education Minister, Dr Rupert Roopnaraine underscored the role of education in improving the country's human resource capacity and its relevance in a globally competitive world.
"The objective is to create a strategy that will enable the development of the workforce, equipped for 21st Century economic and societal requirements," he stated.
Many countries have succeeded in achieving economic prosperity by effectively mobilising their human resources, including Japan, Singapore, Germany and Hong Kong.