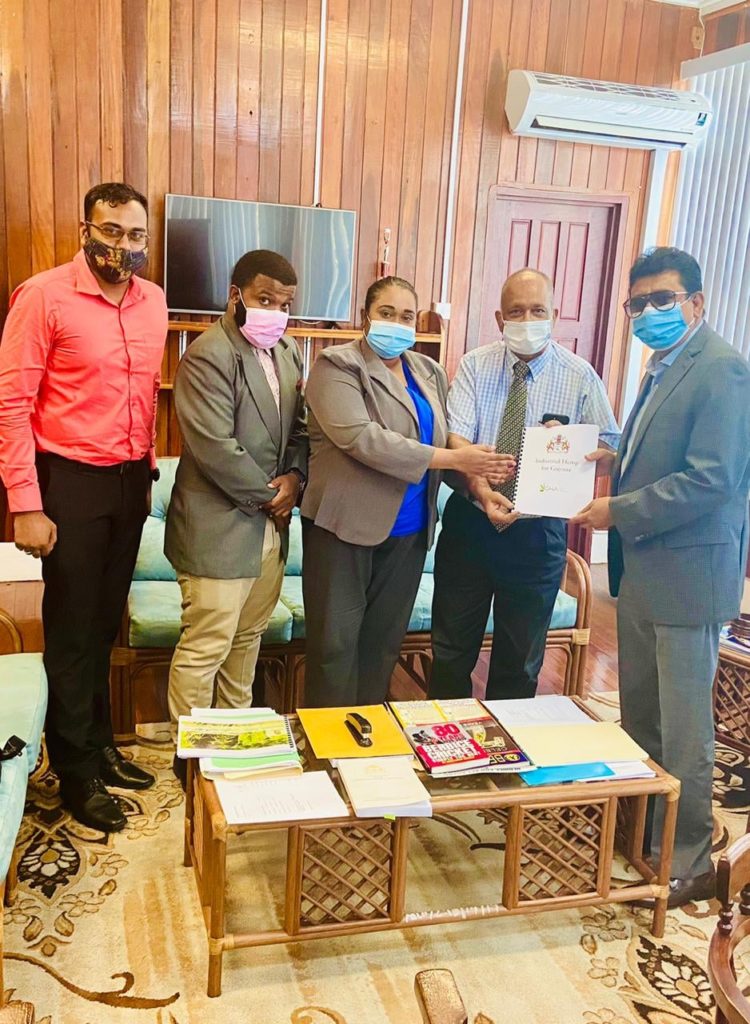 The Guyana Hemp Association has painted a rosy picture for hemp cultivation over the next few years, saying that the multibillion-dollar industry can create 50,000 jobs.
The Association, which is seeking Government's support on hemp cultivation, met with Attorney General and Legal Affairs Minister, Anil Nandlall on Monday.
During the meeting, Nandlall informed Chief Executive Officer (CEO) of the Hemp Association, Turhan Deorga, that Government made many promises which it intends to deliver, and exploring the cultivation of hemp on a plantation scale is one of them.
Its Chief Operations Officer (COO), Dr Asha Kissoon, produced multiple written proposals to the Attorney General, setting out the impacts and projections hemp would have if produced in Guyana. Dr Kissoon explained that the Association is not going to have a traditional approach to the production of the plant.
Rather, she explained that hemp will be produced and grown in greenhouses and will be cultivated by professional/trained individuals. She also explained that hemp does not contain tetrahydrocannabinol (THC), is not a psychoactive drug and cannot be planted with marijuana because the plants would cross-pollinate, which would be destructive.
According to Deorga, an organisation by the name of Nirvana has recently begun the production of hemp in Miami and attorneys-at-law in the State have already drafted legislation. He also highlighted a number of other jurisdictions where hemp is being cultivated.
The COO expressed concerns about the occurrence of the Dutch disease due to the high profitability of hemp. He emphasised the need for the National Agricultural Research and Extension Institute and the University of Guyana to be involved in the initiative since individuals in the agricultural sector know everything about hemp, but refuse to get involved because of politics.
Deorga stated that Suriname has already begun the production of hemp on a large scale. In closing, he thanked the Attorney General and Government for their open-minded approach to the hemp industry and for holding the meeting. The Attorney General agreed to study the bundle of documents submitted to him by the Association and to incorporate it into his advice to Cabinet on the issue.