…says Roach, on using saliva
By Brandon Corlette
The use of saliva to shine the cricket ball has been banned with the rise of the deadly coronavirus pandemic. Cricket has returned in grand style, with England and West Indies playing the first of three Test matches in a bio-secure environment. The most senior of the West Indies Test bowlers in the team, Kemar Roach, speaking on Player Zone on the second day of the ongoing Test, said he is still getting accustomed to not shining the ball with saliva.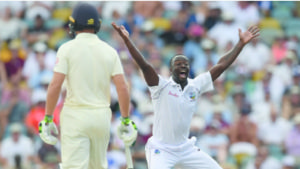 "A couple times I almost did it, but luckily for me, I didn't do it. You have to rub the ball on your clothes harder to keep it polished. I think we did a fantastic job with that, that's why we got a bit more movement. It's all about mastering that and obviously taking it to the English bowlers in the second innings," Roach disclosed.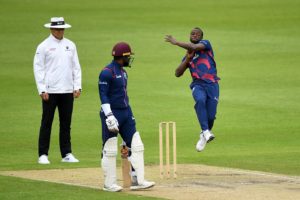 West Indies pacers "made the ball talk" on the second day, with Jason Holder leading the way with his career best figures of 6-42; while steam train Shannon Gabriel claimed 4-62 in 15.3 overs as England were rocked to 204 all out.
Roach noted that Gabriel's bowling was fantastic and at a high pace.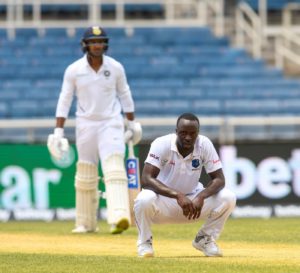 "He showed his ability to bring back the ball, that's always his strength. His rhythm was spot on," Roach said of his partner Gabriel.
Roach has highlighted that Holder has been impressive. "That's why he is number three in the World: his ability to move the ball both ways on a consistent length. He is doing a fantastic job for us, and I am urging him to keep pushing and doing as well as he can for the West Indies."
On the review topic, Roach said the team has improved in that area. Communication between the bowler and the keeper has been spot on, hence West Indies getting the best out of the reviews.
With Roach approaching 200 wickets, he is among the top fast bowlers in the history of West Indies cricket. The pace ace is looking to execute the plans and give it the best shot.
"Not every day will be the same person day, but you just have to work hard for what is yours," Roach said after he went wicketless on the second day.
Roach had said a few years ago that being up there with the best was a bit off the radar, but now he is pushing towards greater heights and is aiming leave a legacy for the next generation.
At 32 years old, Roach has 193 Test wickets in the 56 matches he played (stats updated after day two of play). He has nine five-wicket hauls at an average of 27.1.
Roach, who was adjudged 'player of the series' the last time West Indies and England played, has a best bowling figure of 6-48 and a best match haul of 10-146.