APNU/AFC's new list of 'migrant voters'
After claims of not being in Guyana on E-Day, Nizea Bacchus, 29, was completely shocked when she saw her name in the newspapers as one of the persons whom the APNU/AFC claimed were out of the country on Elections Day.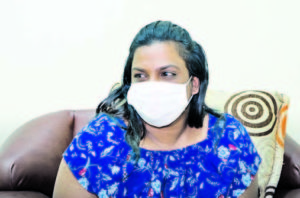 Late last month, the APNU/AFC Coalition had submitted a list of some 200 names to the Guyana Elections Commission (GECOM), claiming that those individuals were not in the country on March 2, and therefore any votes cast in their names would be illegitimate.
GECOM Chairperson Justice Claudette Singh then wrote Police Commissioner Leslie James, seeking to determine whether those individuals were indeed out of the jurisdiction.
The Top Cop replied, indicating that based on records from the Immigration Department, 172 persons from the APNU/AFC list were not in Guyana on Elections Day – an assertion which has since been proven false, as scores of people are coming forward to refute the information.
New list
Pushing its agenda, the APNU/AFC again submitted another list of over 200 additional names of persons it is claiming were not in Guyana on Elections Day. That party also submitted a list of persons it claimed were dead but yet votes were recorded in their names.
The new list sent to the GECOM Chairperson was sent by Joseph Harmon, who is acting as an election agent for the APNU/AFC. A copy of this list was also sent to Chief Elections Officer (CEO) Keith Lowenfield.
Shocked
Bacchus's name is among those on the new list of persons the coalition is claiming were not in Guyana on Elections Day. But according to the woman, she was in the country on March 2 and voted at the New Diamond/Grove Primary School. She said siblings and parents can attest to this fact.
Further, her passport – which was seen by this publication – indicates that she last travelled out of the country in October 2019, to Suriname, and she returned the same month.
"So, I was shocked this morning (Wednesday morning)," Bacchus said, referring to when she saw her name in the list which was published in one of the local newspapers.
She believes politicians need to stop "just putting random people's names" in the public.
"We [Guyana] are just going backward, backward all the time," she expressed.
Bacchus is among many other persons who have come forward after seeing their names on the APNU/AFC list as having migrated or been out of the jurisdiction on Elections Day. Testimonies of these individuals not only discredit the APNU/AFC's list, but also the list submitted to GECOM by the Police. The Guyana Police Force has since sought to clarify why the list it provided to GECOM has what appears to be numerous inaccuracies.
According to the Force: "Migration Data produce by the Immigration Department of the Guyana Police Force is generated through its Record system, which includes an electronic Border Management System. This system, however, does not record persons who travelled illegally."
The Police Force is therefore saying that these persons would have left Guyana "legally" but returned "illegally".