Photos and story by Timothy Jaikarran
India versus South Africa, whether its rivalry with the senior team or even the U19 unit, there is always action when the two teams hit the field. The same could be said at the Providence Stadium as the action in the ICC Men's U19 50 overs world cup concluded its Guyana leg. The encounter saw India beating South Africa by 454 runs to entice the palates of the many fans in the stadium. A captains knock of 82 seemed as if the tone was set, but it was Vicky Ostwal with his 5-28 and Raj Bawa's 4-47that turned the game for India.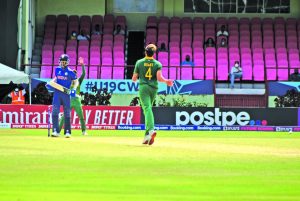 After being set a target of 233 to win the South African camp probably thought the game was there's for the taking. But Rajvardhan Hangargekar stunned his opponents removing opener Ethan-John Cunningham for a golden duck, this brought Dewald Brevis to the crease and it was now up to him and Valentine Kitime to hold things together. The duo did allow South Africa across the 50-run mark with constant strikes from both ends, there most impressive feat was the 22 runs they took off of Raj Bawa's over.
But the glory soon faded as Kitime became Ostwal's first victim with the score on 58-1, nevertheless Brevis continued his fight. But, Ostwal picked up Gerhardus Maree to earn his second wicket and forcing the South African batsmen to rethink their strategy. Brevis and his captain George Van Heerden put on a 55-run partnership to turn things a bit in their favour as Brevis even brought up his half century. But the dream was short lived as Bawa who had taken a beating earlier returned to give himself some reassurance removing Brevis for 65.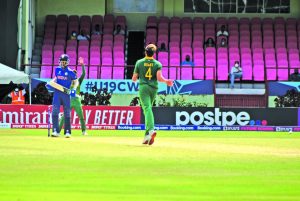 From there everything went strictly downhill for the South Africans from 138-4 to 158-8, this meant that in the space of 20 runs South Africa choked and lost four wickets at vital moments of the game. The men in charge of this demolition were none other than Ostwal and surprisingly Bawa who regained his confidence and struck at regular intervals. The moment was even sweeter when Ostwal bagged his fifth wicket for just 28 runs, India new they already had the win in the bag and it was just up the them to see it through. Bawa picked up a couple more wickets to add 4-47 to his tally of wickets, Rajvardhan Hangargekar took 1-38, team India stormed the field as they had done it, they reduced the might South Africans to minnows gaining a big win and a big boost of confidence.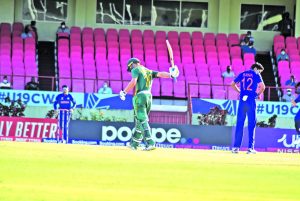 Earlier in the innings, batting first India were reeling at 11-2 in 5.1 overs, Aphiwe Mnyanda removed both openers as the South Africans showed India that they meant business. As Harnoor Singh and Angkrish Raghuvanshi were back in the pavilion for 1 and 15 runs respectively, it was now up to Shaik Rasheed and Yash Dhul to hold a partnership together for their team. And just as many expected, so did the duo do, they put their heads down and put together a handy 71 runs partnership before Rasheed was trapped lbw by Liam Alder for 30.
As the wickets tumbled Dhul continued to play his natural game, running between the wickets with precision and scoring boundaries when needed. Nishan Sindhu played a handy cameo of 27 but it wasn't enough to support his partner at the other end as Mickey Copeland and Dewald Brevis struck when South required to have India at 159-5.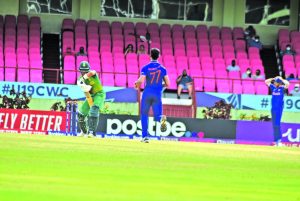 Dhul rallied on with Kaushal Tambe but was run out for 82 by some excellent fielding from the South African unit. From there the last ten overs were South Africa's as Matthew Boast steamed in with pace and power, he even was rewarded with being on a hatrick and despite not getting it he still snagged two wickets to add to his tally. In the end India were reduced to 232 all out as Dewald Brevis picked up the last wicket, bowling for South Africa were Matthew Boast 3-40, Dewald Brevis 2-43, Aphiwe Mnyanda 2-29, while Liam Alder and Mickey Copeland took 1-40 and 1-44 runs respectively.