Story and photos by Timothy Jaikarran
The conditions were set, the atmosphere and vibes were there, and the action in the ICC Men's U19 50-overs World Cup commenced with Sri Lanka battling Scotland in an absolute thriller at the Everest Cricket Club in Georgetown.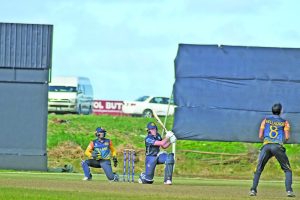 In the end, Sri Lanka defeated Scotland by 40 runs, thanks to the batting effort of Sakuna Liyanage, which contributed a fighting 85, and the crafty off-spin of Dunith Wellalage, which produced returns of 5-27.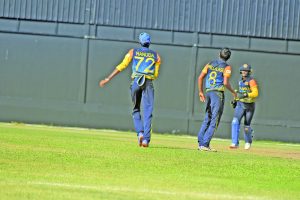 Sri Lanka choke Scotland
Needing 219 runs to win, Sri Lanka choked their opponents early in their innings. They ensured that Scotland barely scored any runs. For Scotland, the runs dried up drastically, as, at the 25th over, the score read 60-3.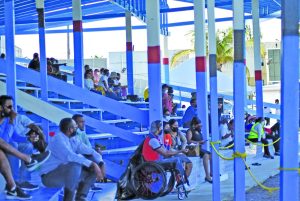 Charlie Tear was the first wicket to fall. He scored 17 off 26 deliveries. Oliver Davidson and Samuel Elstone were pinned down, as they struggled for runs, contributing 15 off 56 deliveries and 13 off 50 deliveries respectively.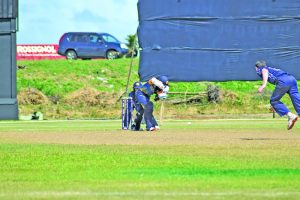 At the end of the 30th over, Scotland had struggled to 85-4, with 134 more runs needed to win. Dunith Wellalage, Shevon Daniel and Matheesha Pathirana contributed all within the 30 overs to have their opponents needing to play a T20 innings with six wickets remaining.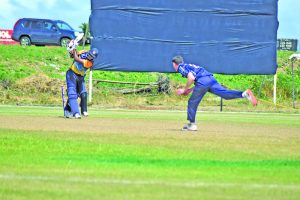 Jarvis's Day, Wellalage's Christmas
Jack Jarvis picked up two wickets, but little did he know the pressure of the Scottish innings would be on his shoulders. The openers were slow in their approach, and those who got started failed to carry on.
Jarvis's fighting spirit gave his team a glimmer of hope as things came down to the wire. He frustrated the Sri Lankan bowlers to some point, when it looked as if he would have taken the game away from them. He brought up his fifty with a spanking boundary, but later fell victim to scoreboard pressure for a well-played 53, and departed with the score at 165-7 in over 45.3, with his side needing 54 runs off 26 deliveries.
Dunith Wellalage's well-crafted innings ensured that the 54 off 26 that was needed never happened. The off-spinner struck at crucial times, and delivered his team easy points. Tossing and flighting his deliveries, he enticed his opponents to go for the big shots as he used the Everest pitch to his advantage and was practically unplayable, thus reaping his team 5-27 off 9 overs.
The Lankans crumble early
Earlier in the innings, the Sri Lanka side took to the field and found themselves in trouble from the get-go, as they lost Shevon Daniel who was run out for 4. Chamindu Wickramasinghe and Sadisha Rajapaksa put together a mini partnership, but Wickramasinghe fell at 60-2 in 9.2 overs.
And just when Sri Lanka looked to carry on, Scotland said, "Wait!" They halted all procession and rocked Sri Lanka with quick wickets to move them from 60-2 to 99-6. Jack Jarvis, Olliver Davidson and Sean Fischer-Keogh were the chief destroyers, who sought to bowl out their opponents and take an early day back to their hotel rooms.
Sakuna stands tall
With 99-6 on the board, Sakuna Liyanage redeemed his side. Coming in at number six, the talented batsman held his own as he fought off the Scottish unit. He turned the game in favour of his side with a well-played 85 off 85 deliveries, which included two boundaries and six towering maximums. He changed the entire mood of the game as he showed both aggression and class in his innings. However, when his innings were brought to an end, it was a little too late for Sri Lanka.
Fischer-Keogh clean up the rest
Raveen de Silva was the only other Sri Lankan batsman to make an effort, as his 49-ball 30 proved vital. However, Sean Fischer-Keogh wrapped up the Lankan innings as he snagged three wickets for 56 runs in his 9 overs. His pace and line and length were what reward him with some much-needed wickets.
Also chipping in were Jack Jarvis with 2-27, Oliver Davidson with 2-50 and Rafay Khan with 1-27. In the end, Sri Lanka could only afford 218 all-out in 45.2 overs.
Next Match
Sri Lanka's next match will be against Australia in Basseterre on January 17 2022.