The Guyana Police Force (GPF) has unearthed illegal firearms and a quantity of marijuana during separate exercises on Tuesday.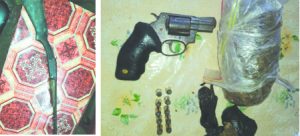 In the first instance, ranks in F Division (Interior Locations), acting on information received, went to a location at Obama Road, Upper Mazaruni, Region Seven (Cuyuni-Mazaruni) sometime around 13:15h and conducted a search on a miner.
During the exercise, the ranks unearthed an unlicensed .38 revolver along with 10 matching rounds of ammunition and 354 grams of cannabis. The suspect, a resident of Angoy's Avenue, New Amsterdam, Berbice, has since been arrested and is being processed for court.
Meanwhile, ranks while on patrol at Makari Landing, Upper Mazaruni River, Region Seven observed a male shopkeeper acting in a suspicious manner. As the ranks approached him, the suspect tossed a long object into the bush and escaped.
The object was immediately retrieved and upon examination was found to be an unlicensed shotgun. Efforts are being made to have the suspect, who has been identified as a resident of Plaisance, East Coast Demerara, apprehended, the Police said on Wednesday.