–
Roopnaraine defends decision to remain in office
Former Education Minister Dr Rupert Roopnaraine has defended his decision to remain in office and government, despite presenting a letter of resignation to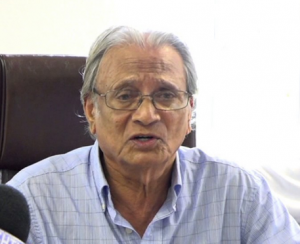 President David Granger less than two weeks ago.
Dr Roopnaraine made this clear: "I'm not at death's door", and assured that he is in perfect form and order to undertake the responsibilities of his new portfolio — Minister of Public Service.
After meeting with President David Granger some three days after handing in his resignation from Government two Sundays ago, the former Education Minister has rescinded that decision and has promised to continue working.
On Wednesday, executives of the Working People's Alliance (WPA), the party that Dr. Roopnaraine represents in Government, told a media conference that the WPA had nothing to do with the now Minister of Public Service withdrawing his resignation, a decision which the party had initially said he was very firm on.
Minister of State, Joseph Harmon, last Thursday announced that Dr Roopnaraine, who was removed from the post of Education Minister and placed within the Ministry of the Presidency, had withdrawn his resignation after meeting with the President last Wednesday and engaging in what was said to be a "fruitful discussion" with respect to his portfolio.
Dr Roopnaraine had felt that his health situation was making it challenging for him to contribute at the level expected, but President Granger had assured him during the meeting that he would receive the support he needs to function within his new portfolio.
Contacted on Thursday, Dr Roopnaraine said he is well able to function in his new capacity. "Yes… I am not at death's door. Of course I have been feeling tired and emotionally not up; but I am okay", Dr Roopnaraine told Guyana Times when asked about his ability to work.
On Thursday, the WPA distanced itself from the Minister's decision to continue working. WPA executive member Dr David Hinds had said that before the letter was handed in, the meeting with Dr Roopnaraine had indicated that the former Education Minister was "very firm" in his decision. It is unclear what might have led him to reconsider his decision.
However, Dr Hinds has said that Roopnaraine rescinding his resignation did not "weaken the party". "We do not think that the withdrawal of his resignation weakens us in any way," Hinds explained, while speculating that Dr Roopnaraine might have considered the President's request.
It was announced on June 13, 2017 that Dr Roopnaraine would be removed from his post as Education Minister and be reassigned to head the Department of Public Service within the Ministry of the Presidency. While no reason for this relocation was given, many had speculated that it had to do with Dr Roopnaraine's deteriorating health. However, some days after being reassigned, the senior minister had refuted those claims, saying that "nothing" was wrong with his health.