…as India's 70th Republic Day observed
The Indian High Commission on Thursday evening hosted a celebratory ceremony to commemorate India's 70th Republic Day, which is commemorated on January 26 every year.
Speaking at the event, which was hosted at the Marriott Hotel, Kingston, Georgetown, India's High Commissioner to Guyana, Venkatachalam Mahalingam noted that this year marks the 50th anniversary since the establishment of complete diplomatic relations between Guyana and India.
He commented on the developments in India throughout the years and their present position in the world among the top-ranking nations. The Indian Government is currently seeking to relaunch the country by 2022 as a place where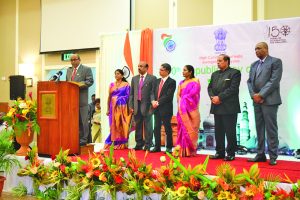 equity is key and all are subjected to better livelihoods.
"During the last three years, India has proved to be a stable economy model in many areas including its regulatory framework. India is shifting from being an informal economy to a formal economy. India has earned its reputation of one of the 10 most-wanted Foreign Direct Investment destinations with an FDI of US$60 billion in 2018," said the High Commissioner.
High Commissioner Mahalingam noted that since the establishment of full diplomatic relations between India and Guyana in 1968, the two countries have been "warm and friendly but also we have consistently held common positions and supported each other in the multilateral arena. India and Guyana have much in common as we share the same colonial past, freedom struggle through peaceful means and our societies being multi-racial and multi-cultural."
According to the High Commissioner, bilateral trade between the two nations is some US$35 million, a figure which he deemed as below potential. It has caused some increased thoughts on ways to enhance some direct engagement in agriculture, renewable energy and pharmaceuticals among others.
"The annual bilateral trade between India and Guyana, as reported by both Governments, is around US$35 million, which is far below potential. The trade through third countries for Indian goods and commodities is also equally high and it is expected to be much more than the actual reported trade figure. We are striving hard to enhance direct engagement between the business communities to enhance trade and investment in the fields of renewable energy, agriculture, education, mining, etc and enhanced cooperation in expanding pharmaceutical trade."
His words were followed by a brief presentation by the Prime Minister, Moses Nagamootoo who lauded the economic programme of the country, which has produced mass development.
"Your country has embraced a dynamic economic programme and has embarked on a transformational path…The bounds of friendship between Guyana and India shared close historical and ancestral bonds which continue to deepen our cultural exchanges at the people-to-people level," said Nagamootoo.
Among those who attended the event were Minister of State, Joseph Harmon; Opposition Leader, Bharrat Jagdeo; Peoples Progressive Party (PPP) presidential candidate, Irfaan Ali; acting Chancellor of the Judiciary, Yonette Cummings-Edwards; members of the Diplomatic Corp and other stakeholders.