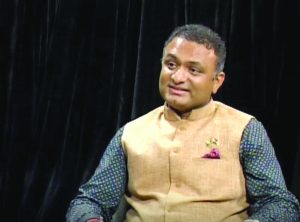 As Guyana prepares for oil production early next year, having had successful discoveries in several blocks offshore, companies in India are eagerly awaiting the opening of a new licensing round to scoop up oil blocks here.
Guyana is expected to have its second oil licensing round in the first quarter of 2020.
India had first expressed interest in Guyana's budding oil and gas industry last year when a high-level Ministerial delegation, which included Natural Resources Minister Raphael Trotman, met with Indian Minister of Petroleum and Natural Gas, Dharmendra Pradhan, during a visit to the Asian country.
Recently, accredited High Commissioner of India to Guyana, Dr KJ Srinivasa told Guyana Times on Wednesday that if more oil blocks become available on the market, then Indian oil companies would "seriously" consider bidding for same.
"…We would await Government of Guyana, if they are planning to [open] bidding for more blocks. We would consider that seriously… Our companies believe in transparent bidding and stuff, so they will come and bid if it's open [because] who doesn't want oil," he posited.
Head of the Energy Department, Dr Mark Bynoe, had told reporters back in February that next year's licensing round would be done via a competitive bidding process as opposed to one-on-one deals. He had explained too that they created a new production sharing agreement (PSA) template which will be used to guide future oil contracts.
However, he noted that the template would not be a one-size-fits-all, given the varying exploration conditions, but will ensure the best deal for both the country and investor.
"This is going to be used in new licensing rounds going forward. Let me emphasise, it's a template, meaning that we will have varying conditions depending on how we are engaging… It will always be a balancing act on what Guyana wants and how Guyana perceives to get what Guyana wants," Bynoe had stated.
India's Petroleum and Natural Gas Minister had stated on his twitter handle in February 2018 that the meeting with the Guyanese Ministers was useful, since they "discussed the possibilities of E&P (Exploration & Production) activities by Indian companies in Guyana".
Moreover, he noted that India had agreed to work with Guyana and share its experience in the oil and gas sector. In fact, Minister Pradhan had tweeted: "(India) agreed to work with Guyana and share our experience in the entire gamut of hydrocarbon sector… (We) will share India's cumulative experience in refinery, petrochemicals and capacity-building in the oil-and-gas sector".
Dr Srinivasa told Guyana Times on Wednesday that Indian companies such as Hindustan Petroleum Corporation Limited (HPCL), Bharrat Petroleum Corporation (BPCL) and Oil and Natural Gas Corporation (ONGC) – all state-owned companies – would be interested in buying crude from Guyana in the future.
According to the Indian envoy, his country's refineries are geared towards refining and processing the oil from across the world.
"These three are huge and they have the technical expertise, they have the knowledge and the experience to not only develop but also both upstream and downstream activities in any oil production area. They have already bid and got, and also successfully processed, many oil blocks across the world from Russia, Siberia, to Central Asia to South American – we have oil blocks," he noted.
While India already have oil stakes in many territories, it is part of the Asian economic powerhouse's strategy to ensure security as it relates to its energy needs.
With a large economy growing rapidly at 7 per cent and a population of 1.35 billion, Dr Srinivasa pointed out that India's energy needs are humongous.
"So even though we have oil – we have found oil in big quantities in India – but because of our oil requirement, we source it through imports. About 80% comes through imports from around the world," he noted.
India's primary source for oil is the Gulf region, and up to recently, Venezuela.
"We recently started importing oil from the US, so for our companies, we can get oil from anywhere around the world and we can process it as part of our strategy for energy security and also for maintaining long term contracts, and to maintain a stability of oil flow. So we are willing to negotiate with all of the countries with good oil production," he posited.
However, the Indian High Commissioner noted that India will be waiting until first oil before moving ahead with plans to buy oil from Guyana since no mechanism has been stated as how it will be disposed of.
US oil giant ExxonMobil is expected to commence oil production in the first quarter of next year. The company's first Floating Production Storage and Offloading (FPSO) vessel, Liza Destiny, arrived in Guyana last week. The vessel can produce up to 120,000 barrels of oil per day and has a storage capacity of 1.6 million barrels.
Another FPSO with a capacity of 220,000 barrels per day is expected as part of the Liza Phase 2 development, and a third is under consideration for the Payara development. Together, these three developments will produce more than 500,000 barrels of oil per day.