– says East Coast to East Bank Demerara bypass road project to soon come on stream
The high-profile Indian investors who visited Guyana last week are exploring investment opportunities in a number of areas, with a keen interest in infrastructure development.
That six-member delegation, led by Chairman of the DY Patil Group, Dr Ajeenkya DY Patil, included former Indian Cricket captain Kapil Dev of the Dev Group of Companies; Chairman of Vishwa Samudra Group and owner of Krishnapatnam Port India, Chinta Sasidhar; Rajesh Puri, Dev Features Ltd, and Ashish Kataria, Director Ashoka Buildcon Ltd.
Dr Patil is Guyana's Honorary Consul in India, and was the driving force behind organising the visit, in collaboration with the Indian High Commission in Georgetown.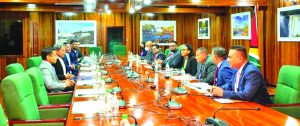 Speaking with Guyana Times, Indian High Commissioner Dr K.J. Srinivasa explained that the investors who came are from companies that are into infrastructure development – ports, roads and health facilities, among others.
During the four-day visit, they met with local stakeholders from the Government, led by President Dr Irfaan Ali and some of his Cabinet Ministers, the Private Sector Commission (PSC), the Guyana Oil and Gas Energy Chamber (GOGEC), and other Private Sector players.
"They had very fruitful engagements, and they are trying to, you know, see which particular sectors interest them… There are various potential projects they discussed with many people. So, yes, they are exploring various options," Dr Srinivasa explained.
He added that the team also did a site visit to the various housing projects being done by the Guyana Government.
According to the Indian High Commissioner, "This is a good time [for the visit, because] we are seeing that the interests by the Indian investors are at an all-time high."
The Indian diplomat further disclosed that the legendary cricket superstar Kapil Dev, whose company specialises in sport infrastructure, also expressed interest in future collaborations in Guyana.
"He was also seeing if they can help with the stadium lighting and everything… Anything that's gonna come up. These are all potential projects," Dr Srinivasa posited.
Moreover, among the group of investors was a Director from Ashoka Buildcon Ltd, which is the company that was awarded the contract for the East Coast to East Bank bypass road project, which is being funded by the Indian Government.
"We also did site visits for road and everything… that project, we will hear some good news in the next week. We are working on the various approvals and so," the Indian High Commissioner indicated.
It was announced in January that Ashoka won the contract to construct the Ogle, East Coast Demerara to Eccles, East Bank Demerara road ahead of two other Indian companies. Since then, the Guyana Government has written the Indian Exim Bank, through diplomatic channels, to seek its no objection for the Ogle to Eccles bypass road to be constructed by Ashoka, which has built a number of bridges and roads in India.
Back in 2015, the Indian Government had provided a US$50 million Line of Credit (LOC) for the road link that was initially slated for Ogle to Diamond, EBD. However, the project cost was driven up to over $208 million by the previous A Partnership for National Unity/Alliance For Change (APNU/AFC) Government, and was left languishing under them. However, when the People's Progressive Party/Civic (PPP/C) Government took office in 2020, it redesigned the project into two phases to fit the LOC. The first phase is from Ogle to Haags Bosch road, which is about 48-50 per cent of the project, and the second phase is from Haags Bosch to Diamond, in order to fit the US$50 million LOC. Because of these changes in the scope of the project, additional approvals were required from New Delhi, and after several months, this was obtained in February 2021.
Meanwhile, Dr Srinivasa further related to this newspaper that the High Commission is planning to host other similar high-profile delegations from India throughout this year. Additionally, the High Commission is looking to get a team from Guyana – Government and Private Sector officials – to travel to India to meet with potential investors.
"We are working very closely with GO-Invest (Guyana Office for Investment) because we want it to be a two-way street," the High Commissioner has posited.
Of recent, there has been mounting interest in Guyana's burgeoning economy and the abundance of business opportunities here.
In fact, last month, a high-level delegation of world-renowned India-based leading Hospital chain, Narayana Hrudayalaya, visited Guyana and held discussions with President Ali and Health Minister Dr Frank Anthony as they explore opportunities to invest in the healthcare sector of Guyana.
Additionally, back in December, GO-Invest and Guyana's High Commission in India had a multi-sectoral investment exchange with the Mumbai-based TATA Group, a multinational conglomerate. The company was told of the vast investment opportunities in the agriculture, energy, manufacturing, technology, and tourism sectors in Guyana.
With TATA's massive and diverse portfolio across the globe, the preliminary discussions were able to identify sectors in which the Government of Guyana and TATA could work together to boost Guyana's capacities and open doors for large-scale sustainable investments here.
Company representatives gave a brief overview of the operations of the various companies under TATA, including the TATA Power Ltd, an electric utility company based in Mumbai. The representative of the company pointed out that there is potential for the company to tap into the energy sector of Guyana. It was also noted that Guyana could benefit from the company's technological access to improve its productive capacity.