…final games to be held today
For the countless year, the Indigenous Heritage Games got off to a stylish start on Friday, seeing participation from 600 athletes. The annual event, which has participation from Indigenous communities around Guyana's 10 regions, kicked started the second day of activities on Saturday in various sport disciplines, namely cricket, volleyball, football, swimming and archery.
As expected, the Everest Cricket Club ground was a hive of activities; however, this went beyond the boundary lines and perimeters of the sports to encompass Indigenous tradition and culture.
Among the spectators, Guyana Times Sport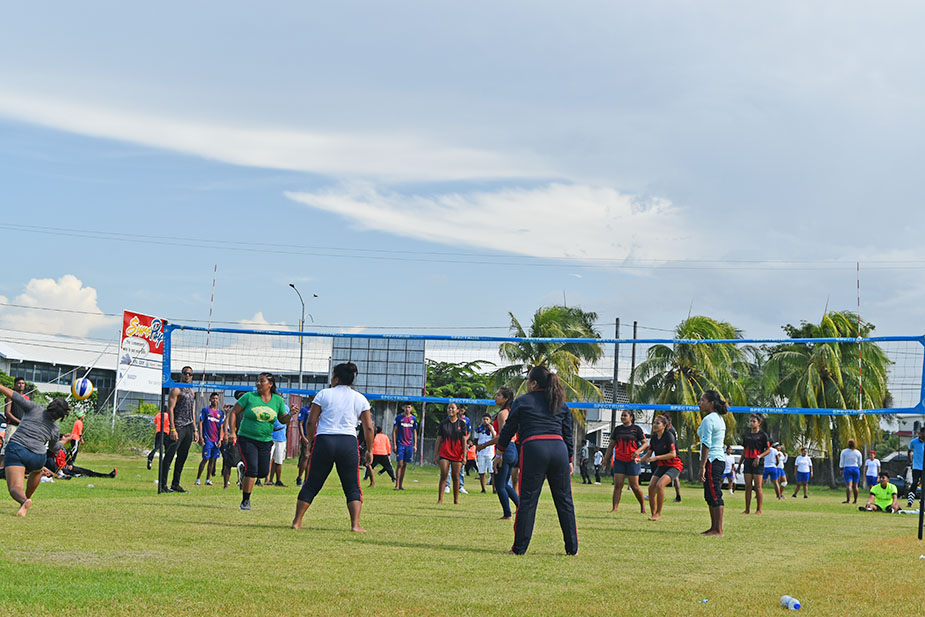 caught up with Communications Officer at the Ministry of Indigenous Peoples' Affairs, Oleta Grant, who noted that this year's event has lived up to its theme.
"If you look around the stands, it's a colourful atmosphere, the music and the unity we're trying to promote. This comes in tandem with our theme for this year, which is 'Proud of our Indigenous Identity, celebrating in Unity',"
So proud were the attendees that many of them could be seen sporting mini headdresses and jewelry which are on sale at the event.
Grant also touched on the diversity of the spectators and the various activities that the Heritage Games have to offer. She is urging patrons to join their Indigenous counterparts in the final day of festivities, which would see the final round of all events.
"The turnout has been excellent so far since the Indigenous Games started. And of course we look forward to persons coming out and supporting us," she declared.
The competition became more intense on Saturday, as teams would have already completed the preliminary rounds, and were now battling for a chance in Sunday's finals.
One sport that didn't have to wait was swimming, which was held at the National Aquatic Centre at Liliendaal. This year's competition in the pool saw Region One, Barima Waini, emerging victorious with 272 points.
Football
Although no football action was played during the day, as the sun withdrew and the venue lights were turned up, both male and female teams took to the field to showcase their football skill.
In the male segment, Port Kaituma are strongly gunning for another title, having made their way into the quarter final, where the will take on Region Two United. Also slated to compete in that round is Paiwomak and Region Six United.
However, in the other group, Tabatinga are a threatening side, having blazed through their competition. They defeated both St Cuthbert's and Saints Rush to secure their spot in the semifinal against Waramadong, who trounced Canima to earn their spot.
Like their male counterparts, defending female champions Pariuma village are having a great outing. The Pariuma women secured their semifinal spot by demolishing Region Six United. Since Region Eight United got the better of Canima, they will meet with the defending champs in their semi.
Having mauled St Cuthbert's 16-0, Kamarang have advanced to the other semifinal. There they will meet with Gladiators FC, who surpassed Moruca for their spot. The male and female finals will both be played this evening.
Archery
In many Indigenous villages, archery is either a fun pastime or a skilled profession, as the arrow and bow are often used for hunting and food gathering. During the Heritage Games, those instruments were used to test the accuracy and skill of those who felt they have what it takes.
It was highlighted to Guyana Times Sport by Archery Guyana Executive Nicholas Hing that the sport's participation at the games has seen a drop from last year's attendance. Hing attributed this occurrence to the fact that many archers are multitasking sports-wise.
"A lot of the athletes are playing another sport. They've signed up, but they're either playing volleyball or cricket," he said.
Nevertheless, the younger talents did not fail to reveal themselves when they got to the firing line. When asked about anyone who might have shown potential, Hing replied in the affirmative. "Yes, some of these young chaps seem to be very good. If you notice, at Number two there are some arrows close to the middle, same thing with number one," he stated as he pointed out some of the participants.
He also noted that this is a good sign, given that the sport may prove to be difficult. "But the archery here is traditional type, which can be difficult for anyone to shoot. It's a learned process," Hing explained.
Speaking optimistically about what can be done to improve archery after the games are done and dusted, Hing said they would be looking to further develop players. In one instance, a toshao has already contacted him about developing the sport within his village.
"We want to get everybody involved, but it's only a matter of time. We'll see from the scores who are good and who we can identify to develop more, of course depending on the region and stuff like that," Hing stated.
Cricket
The tension was high, the players were poised, and action was expected. One could see the hunger in their eyes as many members of both male and female teams from across the ten administrative regions of Guyana competed for glory even as they all gathered under one roof.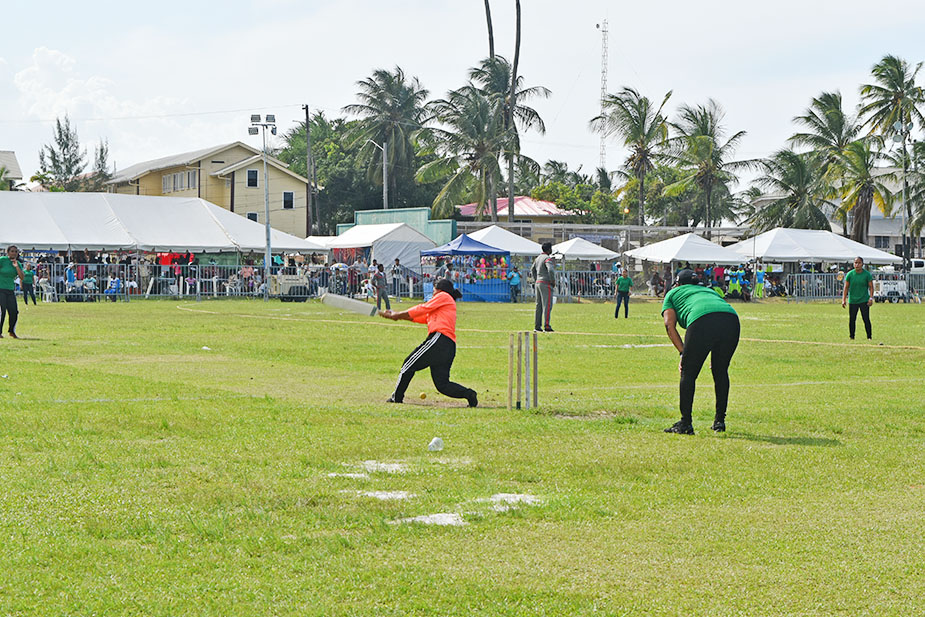 The male cricket match, deemed the slugfest of the century, began with each team playing eight overs per side. The first match got underway with Santa Mission battling St Cuthbert's Mission. Sent in to bat first, Santa Mission racked up a whopping 87-4 in their allotted 8 overs. Replying, St Cuthbert's Mission demolished the total in 7.3 overs, scoring 88 with the fall of two wickets.
Following the excitement of that first match, Moraikobai were sent in to bat in their match against Campbelltown, and made 101-5 from their 8 overs. Defending such a small score looked virtually impossible, but towards the end of the match, Campbelltown, needing 17 to win off the last over, could scrape only 16, resulting in the first super over of the Heritage Games being played.
With players from both sides looking nervous, Campbelltown were sent in to bat, and mustered 10-1 in their six balls, while Moraikobai could manage only 8-1 from their allotted 6 balls.
Jubilant Campbelltown fans flooded the field in celebration, assured their team had now moved up in the points' tally.
Other matches that followed saw Port Kaituma (88-5 from 9 overs) defeat Orealla (85-8 in 10 overs) by 5 wickets; and Region 2 United (70-5 in their 8 overs) defeating Sandhills (63-3 in 8 overs). The progression to the semifinals and finals will continue today.
The female round of the cricket had matches that fixated the crowd, with the women virtually outplaying the men in spirit and heart in 8-overs-per-side matches. Such was the intensity and passion of play among the women that one could feel every dive and every six coming sweetly off the blade of the bat.
The first match saw Orealla (69-3) losing to Kartabo (75-2). All other matches played were scintillating, all leading up to the two semifinal matches, with Swan clashing with St Cuthbert's in semifinal 1 and Karatabo battling Region 2 United for a spot in the finals. In semifinal 1, St Cuthbert's made 86-5 from their allotted overs, while Swan were bowled out for 62, placing the defending champs St Cuthbert's into another final.
Region 2 United looked threatening as they started off their opening innings, but a few late wickets from Karatabo pegged them bag to a modest 76-2. In reply, Karatabo made 77-2 in 6.3 overs, their innings dealing mostly in boundaries.
The final between St Cuthbert's and Karatabo is scheduled for today.
Volleyball
With the action heating up at every event, in the Volleyball it definitely did not disappoint, as seven teams competed for a spot in the semifinals, namely Moraikobai, Moruca, Pakuri, Kanaimas, Orealla, Siparuta and Swan.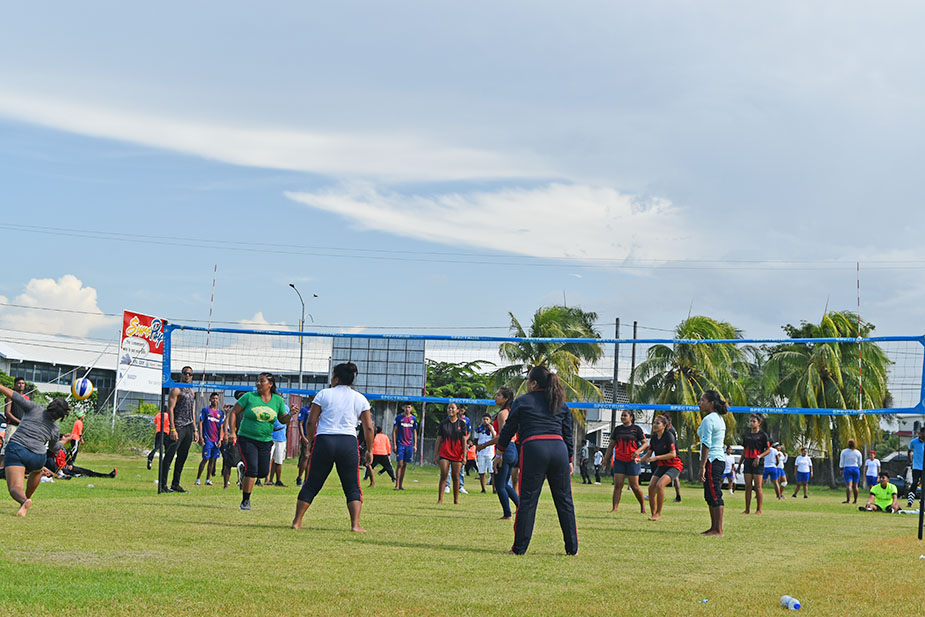 In the first match, Moraikobi went down to Moruca 30-22, trying in vain but failing miserably to gain the necessary point to secure a win. Orealla then proceeded to trounce Siparuta; Pakuri defeated Kanaimas 30-25, and Orella defeated Swan 30-12.
In semifinal 1, to be played today, Orealla will battle Pakuri; and in semifinal 2, Moruca will clash with Siparuta. The semi-finals and finals are scheduled to continue today.
The male preliminary rounds will continue today as well.