– 74-year-old Nairanjan Singh set to compete
The Guyana Amateur Powerlifting Federation (GAPLF) will shift its attention to the Intermediate/ Masters when it hosts the 2018 champions on Sunday at the St Stanislaus College.
The big attraction is set to be 74-year-old Nairanjan Singh, Guyana's oldest competing, gold-medal winning and record-holding power lifter. Seventy-year-old Noel Cummings, who is also an active body builder, will be in action as well, backed up by the 66-year-old Frank Tucker.
Based on information received, 33 persons have registered for the event. The other persons are Bjorn Williams, Blossom Babb, Carlos Peterson-Griffith,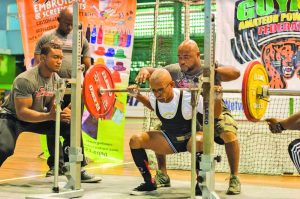 Christopher Sookdeo, Colin Chesney, Deonarine Dutt, Dwayne Welch, Ede Tyrell, Fawaz Rampertab, Franklyn Brisport-Luke, Grace Babb, Greg Stevens, Jackquelyn Toney, Junica Pluck, Keshawn Rahiman, Leroy Trotman, Martin Webster, Matthew Maycock, Nadina Taharally, Onika Beckles, Rajiv Indarjeet, Ramzan Mohamed, Runita White, Sherlock Rigby, Shivdatt Hansraj, Susan Rodrigues, Timothy Bagla, Timothy Romalho, Tineisha Toney, and Vijai Rahim.
In 2017, Buddy's Gym's Martin Webster, Space Gym's "Big" John Edwards and Hardcore Gym's Farouk Abdool, all masters athletes, rewrote the record books.
Sunday's event starts with Flight A at 09:00h and then flight B from 13:00h. The participating athletes are required to be at the venue for weigh-in at 07:00h.