As the People's Progressive Party/Civic (PPP/C) Administration seeks to overhaul current Natural Resource Fund legislation that was implemented by its predecessor, the United States Government says it is looking forward to the new regulations.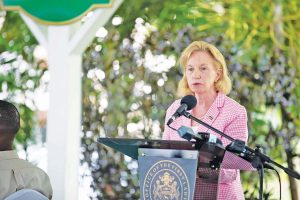 "We continue to look forward to the Government's initiatives to combat corruption, including Natural Resource Fund legislation that offers both transparency and clear oversight, and to a meaningful and inclusive process of stakeholder engagement," US Ambassador to Guyana, Sarah-Ann Lynch, said in a statement to mark today's observance of International Anti-Corruption Day.
The US diplomat posited that a strong anti-corruption stance now would show Guyanese citizens, and the rest of the world, that the Guyana Government was committed to transparent institutions that utilise the country's resources to the long-term benefit of all Guyanese.
The Natural Resource Fund (NRF) Act was passed by the former A Partnership for National Unity/Alliance For Change (APNU/AFC) regime one month after the David Granger-led Government had fallen to a No-Confidence Motion brought by the then PPP/C Opposition.
The current Administration, led by President Dr Irfaan Ali, has always contended that the NRF Act, which stipulates that various committees must be established to provide oversight for the Fund, was passed during a period when the Government in power was illegitimate.
As such, the approximately US$534 million in oil revenues that Guyana has earned thus far remains untouched in the Federal Reserve Bank of New York pending a series of reforms to strengthen the Government's regulatory infrastructure for the sector.
Vice President Bharrat Jagdeo had previously stated that in its current form, the NRF Act was not insulated from political manoeuvring. Hence, there would be amendments to fix this.
Moreover, the NRF configuration under the coalition had also attracted criticism from Guyana's development partner, the Inter-American Development Bank (IDB), which had said in a detailed assessment that the objectives and design of the NRF raised several issues, including its complex formula guiding maximum withdrawals.
"The rigid withdrawal rules may do little to foster stabilisation or saving, but may entail fiscal costs," the IDB stated, adding "the formula for the maximum permissible withdrawal is among the most complex operational rules for a resource fund in the world. Its design departs from good practices".
Senior Minister with Responsibility for Finance, Dr Ashni Singh had argued too that the coalition's NRF Act was very poorly conceived, and was "rammed down the throats of the nation during a period when the APNU/AFC was in a state of illegality and illegitimacy".
Nevertheless, President Ali had reassured that the amended legislation would be laid in Parliament before the year's end and had even brought in experts to assist in putting together the new regulations.
In fact, during this week's edition of his programme – "Issues In The News", Attorney General and Legal Affairs Minister Anil Nandlall, SC, disclosed that the new legislation could be tabled as soon as the first sitting of the National Assembly, which could be as early as next week.
In keeping with its manifesto commitments, the PPP/C Government has pledged to implement a number of measures to ensure accountable and transparent management of the country's natural resources including establishing an arm's length sovereign wealth fund insulated from political interference and upholding the Santiago Principles of transparency and accountability, and the Extractive Industries Transparency Initiative (EITI).
Combating corruption
Meanwhile, in her statement, Ambassador Lynch outlined that the observance of International Anti-Corruption Day was an annual opportunity to bring attention to the continued importance of combating corruption, ensuring accountability, and fostering transparency.
"Around the world, corruption threatens security, hinders economic growth, and siphons away public and private resources. Governments and institutions around the globe cannot allow corruption to flourish. Constructing a legislative framework that deters corrupt practices and promotes transparency is an essential step in addressing corruption. Enhancing the capabilities of criminal justice institutions to investigate and prosecute corruption is also crucial to exposing malign influence," she argued.
The US envoy went on to state that governmental operations should be transparent to allow citizens and the media to provide oversight and hold officials accountable. "Most importantly, a robust civil society and free press are critical to holding leaders responsible for their actions," she asserted.
In addition, the diplomat noted that procurement processes that comply with international anti-corruption standards would ensure a level playing field for investors.
On this note, the US Ambassador also underscored the need for the Private Sector to also answer for any role that it played in corrupt practices, adding that it was more advisable to choose partners that were reputable over the most convenient.
Ambassador Lynch pointed out that the US State Department's Bureau of International Narcotics and Law Enforcement Affairs has focused on training and mentoring persons in Guyana's criminal justice sector to build their capacity to fight corruption.
In 2018, the Guyana Public Service Commission was reconstituted after a 13-year hiatus, which she says was a step towards ensuring fairness and transparency in the public service system. The US diplomat also lauded Guyana for passing the Protected Disclosures (Whistleblower) Act in 2018, which seeks to protect persons making disclosures from retribution from others, including within the public service.
"These kinds of legislative reforms are necessary parts of a successful plan to fight corruption," Ambassador Lynch posited.
Meanwhile, US President Joe Biden is hosting a virtual Summit for Democracy today that will see participation of more than 100 countries, including Guyana. At that summit, which President Ali will attend, the US will be asking participating Governments to announce meaningful commitments and initiatives, and to engage with civil society and the private and philanthropic sectors, since they play a critical role in supporting democracy, fighting corruption, and protecting human rights.