Phil Harrison, Chairman of the International Confederation of Fullbore Rifle Associations (ICFRA) Commonwealth Committee has accepted an invitation from the Guyana National Rifle Association (GuyanaNRA) to be part of the historical 150th anniversary championship, which also doubles as the West Indies Fullbore Shooting Championships, October 9-15, next.
Fullbore Captain, Mahendra Persaud, has disclosed that the host Association is once again privileged to welcome Harrison back to Guyana following his visit here with the Middlesex Rifle Shooting Association of Great Britain team in 2009.
Harrison's expertise in the technical aspect of the sport will go a long way in assisting the smooth flow of the championship which is expected to have over 140 shooters from the West Indies and further afield, and will be the biggest ever in the West Indies.
The October showdown between the West Indies' number one nation Guyana (Short and Long Range Kings), Jamaica, Antigua and Barbuda, Bermuda, Barbados, Trinidad and Tobago as well as some of the best nations at the world level, including Australia, Great Britain, Canada, USA, Scotland, Wales and the Falkland Islands.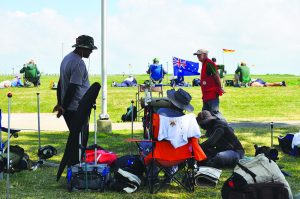 Millions of dollars have been expended to date towards the refurbishing of the Timehri Rifle Range by the GuyanaNRA and the Guyana Defence Force which Persaud has disclosed has been very supportive in every regard.
"Preparations have been going very well to date at the ranges and in terms of plans for our overseas guests who will be bringing along their families which will give a huge boost to our economy. The logistics in terms of accommodation and transportation among other areas have almost been ironed out."
The Guyana team commenced training on Sunday last at the Timehri Rifle Ranges which is about 80 per cent complete. The rain played havoc and almost washed out the day which prompted the Captain to call training for tomorrow and Sunday in order make up back the time lost.
The estimated budget for the overall running of the championships is over G$20 million; half of which will be for procuring ammunition.