– as $1B West Central Mall opens at Leonora
The physical landscape and economy of Region Three (Essequibo Islands-West Demerara) continue to be transformed with projects such as the $1 billion West Central Mall that was opened on Friday at Leonora, West Coast Demerara (WCD), and according to Vice President Bharrat Jagdeo, these investments are reflective of the confidence that the private sector has in the current People's Progressive Party/Civic (PPP/C) Government.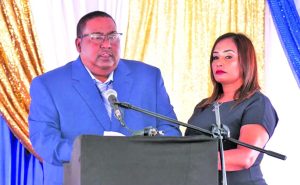 Boasting a diverse shopping experience with over 50 stores, nine fast food restaurants in a 250-capacity food court as well as a fine-dining restaurant – Atlantis Cuisine, the Ace Bar and Lounge, and the largest kids play area equipped with a ball pit pool, slides, mini trampoline, and a zipline, the West Central Mall Incorporated is a family venture undertaken by Hemraj Albert, his wife, and children.
One of the main features of the 98,000-square-foot facility is its two-screen theatre that has 2D and 3D capacity.
The mega mall – the first of its kind in Region Three – was commissioned by the Albert family and Vice President Jagdeo on Friday evening.
During his feature address, Jagdeo pointed out that this massive investment undertaken by the Albert family is due to the economic dynamism of the local private sector. He noted that a lot of investors have noticed and are taking advantage of the pro-business signal being sent by the PPP/C Administration – driven mainly by its economic and developmental policies.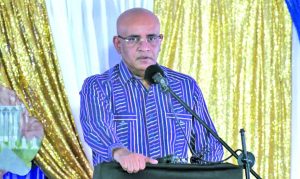 "An economy operates on confidence as much as it operates on fiscal incentives. When you speak to the private sector across this country, they are overwhelmingly confident about the direction that our country is going in and the supporting facilities of the PPP/Civic Government. It's the ability to chart a course to ensure that we achieve those results and that is why, not just here in this venture, but right across the country, you see similar facilities being put in place," the Vice President stated.
According to Jagdeo, investors have to make critical decisions and often take a lot of risks, hence the current Dr Irfaan Ali-led Administration strongly believes in minimising those risks to encourage private sector investments. This, he noted, however, can only be done through a clear vision and policies to support that vision – policies that are friendly to investments as well as job creation.
Jagdeo, who is also the General Secretary of the ruling PPP/C, recalled when the party was in Opposition during the 2015 to 2020 period, it had observed the widespread disincentives hindering investment under the then APNU/AFC coalition and recognised that the Guyanese economy would not expand and create jobs or wealth for the people.
Against this backdrop, they came up with a strategy to transform the country with a stable macroeconomic environment, enabling infrastructure and a reduction of the burdensome taxations imposed by the previous regime.
He pointed out that "pro-poor" and "pro-private sector" were the main objectives of the PPP/C economic philosophy – something which they were heavily criticised for and many thought could not be achieved.
VP Jagdeo outlined that they have proven the naysayers wrong, having injected over $100 billion in disposable income into the pockets of Guyanese in the past few years and expending billions of dollars into infrastructure and other areas to support private sector investment and development. He noted that because of this economic development policy of the Government, there has been a developmental explosion across the country.
However, the Vice President posited that with this success comes challenges that the Government has had to grapple with such as high prices and shortages of building materials as well as shortage of skilled labour.
In fact, labour shortage was one of the setbacks that the executives of West Central Mall Incorporated had to face during the two-and-a-half-year construction of the facility.
During his remarks, Developer Hemraj Albert said the road to the finish line was not easy.
"We faced many challenges such as logistics, weather, increased prices of materials and significant shortages of labour… Guyana needs about 100,000 more skilled labourers right now because of the [ongoing and future] development of the country and the vision the Government has for the country," he stated.
According to Albert, the mall is a much-needed facility in Region Three, which he noted will not only contribute to the development and future growth of West Demerara but also to the country.
"The gap between a social entity for entertainment and cohesion was missing in Region Three. It was with this gap that we prospected with ideas when we acquired the land and I am pleased to say that the idea of a shopping mall was birthed," the businessman noted.
With Region Three pegged as one of the fastest-growing regions in the country, Albert said he and his family are proud to be part of that development story.
Meanwhile, Tourism, Industry and Commerce Minister, Oneidge Walrond in brief remarks, highlighted the tourism pull and attraction that the West Central Mall brings. She said projects being undertaken now such as this new mall and all its world-class facilities have demonstrated the fact that the standard is being raised in terms of development in the region.
According to the Minister, with increasing visitors every year to Guyana – this month alone recording a 12 per cent hike, facilities such as the mall add to the country's tourism product and offer more to persons outside of the capital city.
"So, now when our visitors come to Guyana, it's not just Georgetown they're coming to; that we're able to present the entire Guyana. There is something, there is an experience for everyone in every single part of the country that you go and that is significant," Walrond stressed. (G-8)