…as Canada-Guyana Chamber of Commerce launched
As foreign interests in Guyana continues to grow, investors are being encouraged to explore outside the oil and gas sector and tap into the many opportunities that are available for investment in Guyana.
This charge was made by President Dr Irfaan Ali at the launch of the Canada-Guyana Chamber of Commerce (CGCC) on Friday at the Arthur Chung Conference Centre, Liliendaal, Greater Georgetown.
With offices in both countries, the Canada-Guyana Chamber of Commerce is aimed at strengthening two-way trade and investments in the two nations and providing support to Canadian and Guyanese businesses.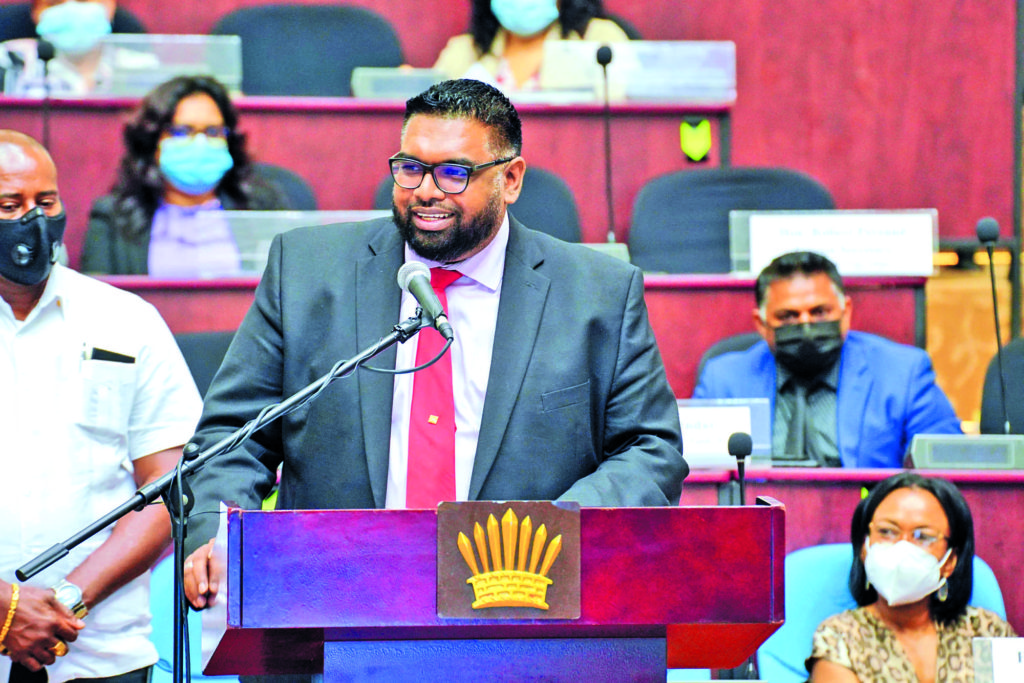 The new Chamber already has over two dozen members in Guyana – some of which are partners with major Canadian companies.
During his feature address at the launching ceremony, President Ali pointed out that the establishment of the CGCC represents the enormous level of confidence in Guyana's future.
"It signals the high expectation for Guyana's economic prospects… The world is expressing confidence in Guyana's economy. Today, the Canadian private sector is joining with the Guyanese private sector in expressing confidence in the economy. The Government has to ensure that we work closely with the private sector in realising that confidence," he asserted.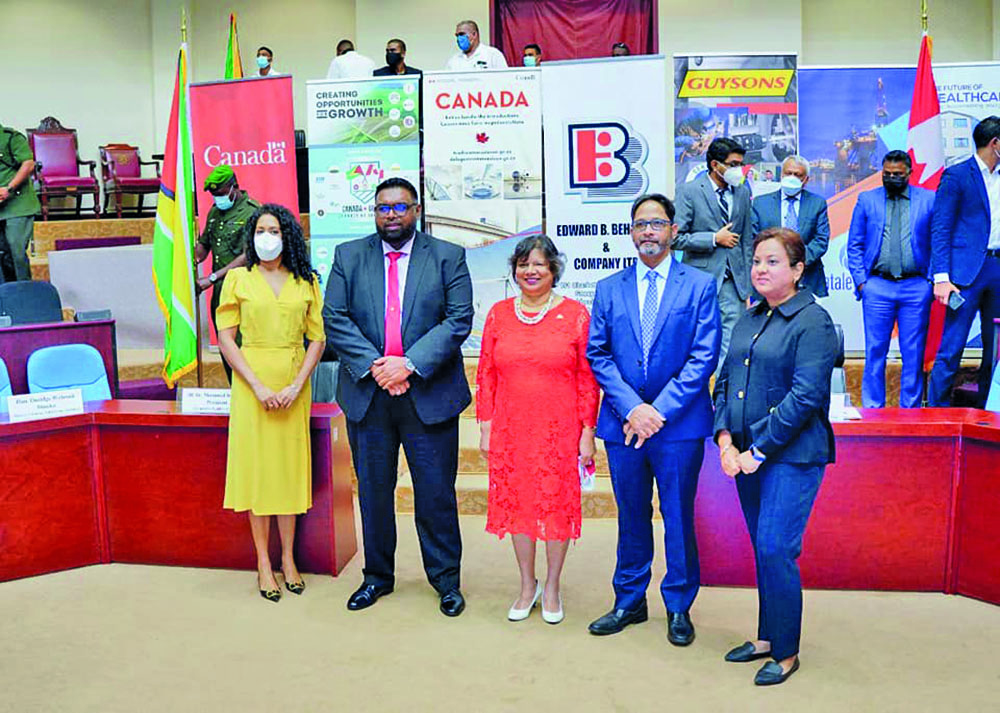 Investor friendly
On this note, Ali posited that while Guyana has always been investor-friendly, he expects the same environment to be created for Guyanese companies wanting to expand abroad.
According to Ali, Guyana anticipates continued duty-free access to Canadian markets and even an expansion of that access in the future as the two countries seek to further solidify trade and business relations.
Moreover, President Ali went on to outline that while there are a host of investment opportunities available in Guyana, investors must look outside the oil and gas sector to invest.
"I urge you to think outside of the box [and] to look beyond the narrow news headlines Guyana receives these days – that's oil and gas. We have one of the best tourism products. We can compete any day with Costa Rica but we don't have the investment," the Head of State lamented.
He further highlighted that there is a lack of direct air services between Guyana and Canada. He said airlift is one of the areas that Guyana needs more competition in.
"So, if [the Chamber] can help us to facilitate the growth of our tourism sector, we will also be more than grateful to not only encourage you but to facilitate those investments. There is no better time than now to have this interest in Guyana. There is no better opportunity than to make use of all that is ahead in our economy," the Guyanese leader stressed.
Wide array and
diverse sectors
Meanwhile, Chairman of the new Chamber of Commerce, Anand Beharry told the gathering at Friday's launch that the CGCC's founding membership already spans a wide array and diverse sectors such as banking and financing, human resources, supply and management, food and beverage production, retail, insurance, international charitable organisations, logistics, medical services, mining, oil and gas exploration, oil and gas services and construction materials and hardware supplies.
"This is reflective of Your Excellency's drive for a highly diversified economy that will not be oil and gas-dependent," the Chairman asserted.
Beharry, whose Edward Beharry and Company Limited is one of the 24 local founding members of the CGCC, explained that in addition to strengthening private sector ties between the two western hemisphere nations, the CGCC will also serve as a business advisory body to the Governments of Guyana and Canada on bilateral matters related to trade and investments.
"Members of the CGCC will have access to a wide network of entrepreneurs and decision-makers to help create and facilitate business opportunities. The Chamber intends to be a centralising hub for the diaspora to re-engage in their homeland," he stated.
Historic moment
Meanwhile, Deputy Minister of International Trade at Global Affairs Canada, John Hannaford in a virtual message said that the launch of the CGCC represents a historic moment for business and private sector networks of Guyana and Canada. He noted that it provides a dedicated space for the continued building of already strong and bilateral trade and investment relationship.
"Canada and Guyana have developed important trade and investment ties in mining, forestry, agriculture, the financial sector and oil and gas. As Guyana grows as a major oil producer, Canada will remain by your side and further develop commercial partnerships, while providing important capacity building," Hannaford said.
According to the Canadian Minister, the launch of this Chamber is a timely intervention as the need to expand international trade and investment has never been greater especially in light of the COVID-19 pandemic.
"The Chamber can further facilitate Canadian companies [to] enhance presence in key priority sectors and in new ones, while enabling Guyanese companies to increase their investments in Canada. Extensive people to people links also enable the rich commercial relationship between our countries," he noted.
With almost one million people of Caribbean descent forming the diaspora in Canada, including a large Guyanese-Canadian diaspora, Hannaford lauded the Chamber for its plans to promote inclusion and gender equality by encouraging women entrepreneurs and small business owners as well as entrepreneurs from under-represented groups to take part in the opportunities that will become available through its establishment.