…contractors adding extra costs after only fraction of work completed – Minister
Agriculture Minister Zulfikar Mustapha on Friday revealed several irregularities that were unearthed, relating to the extension of contracts for works in Region Four (Demerara-Mahaica), whereby works were extended for a significant figure, with only a fraction of the work being completed.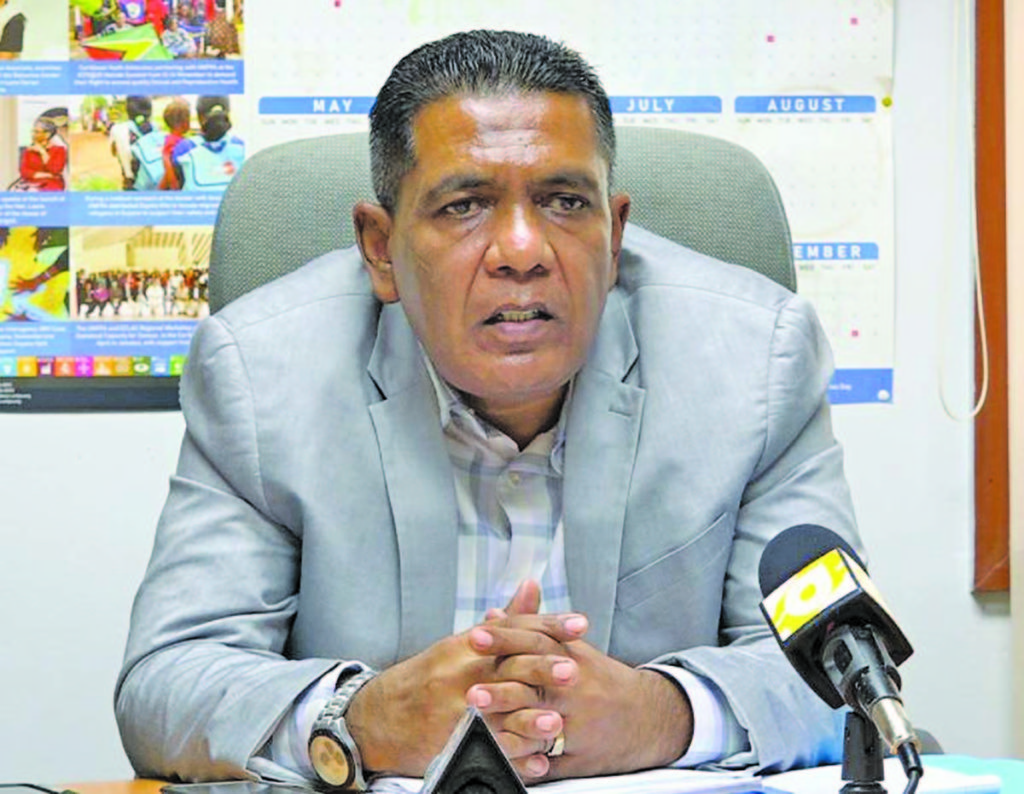 During a press briefing, he said this trend was observed in contracts awarded for works for the National Drainage and Irrigation Authority – a major entity under the Ministry. There are also cases where the contract was increased without approval from the relevant authorities.
In one instance, a contract was awarded on July 1, 2020, for the operation, servicing and monitoring of hydraulic excavators for Region Four (Demerara-Mahaica), whereby the contractor was tasked with supervising Government's machinery and providing fuel. To the tune of $64,716,350, the original bill of quantity budgeted was for approximately 44,000 rods of channel to be dug and 75,000 cubic yards of canal to be excavated.
However, only a portion of the works was completed and a request was made for variation, for an additional $44.5 million without any permission for such. The Minister clarified that in order for a variation to be done, approval is needed. Now, Cabinet has taken a decision to put these works on hold until clarity is provided.
"The contractor would have cleared 25,000 rods and dug 1101 cubic yards of canals. Before a variation has to be done, you have to have approval for variation…They extended the contract by $46,500,000 for this. This is like a fait accompli because they would have extended the contract and extended the contract sum, they then send it to the Tender Board. The Tender Board would have to send it to Cabinet for no objection. I just put in on hold and Cabinet even decided that we can't do things like this," the Minister positioned.
In a second occurrence, another contractor of the same contract was also awarded in July for $34,114,275 for 28,000 rods of channel to be cleared and 30,000 cubic yards of canal to be excavated. The contract was extended for variation after the contractor completed only 19,880 rods and cleared 21,300 cubic yards. This time, the additional figure was over 100 per cent more than the initial contract cost.
He added, "Again, the contract was extended to the tune of $35 million – over 100 per cent although the contractor would have completed less work at the time. So, this is a cause for concern… Extending a contract is not unusual but doing so in excess of 100 per cent is a breach and a concern for me as Minister."
He noted that both contractors are frequently hired to carry out such works and Government must get its value for the monies expended. Auditor General Deodat Sharma has already been asked to probe this matter, after which Government will make a decision on its next move.
"I've since sent this to the Auditor General to do an investigation on this matter. I will be waiting on him before I advise on the way forward. This goes to show how these entities have been operating over the years…A lot of funds are going to these places. We have to have our value for money. Over the years, there has been many oppositions about people colluding with contractors and increase the rate of these works."
On the aspect of increasing contracts without approvals, Mustapha said this is a breach of the National Procurement Act. Closer attention will be paid to contracts in the new year, however, he and expressed that these issues are as a result of loopholes in the system under the previous Administration, enabling an avenue for corrupt activities.
Going forward, the various agencies under the Ministry will be engaged in systems that will be put in place to prevent such activities by contractors.
"I'm putting these checks and balances in the regions also. I'm also looking at rotating these engineers so that they will not be in an area for too long…The system that was implemented by the previous Administration is a system that is open for corruption. You can manipulate the system easily. I think we have to put proper procurement regulation in place," the Minister asserted.