…busted with 2041 grams ganja
A 58-year-old Berbice farmer has been detained by Police after he was nabbed at a roadblock with more than 2000 grams of marijuana.
At about 18:25h on Friday, ranks were conducting a stop-and-search exercise in front of the Ituni Police Station in Region 10 (Upper Demerara-Berbice) when they stopped white 212 motor car PZZ 7500.
At the time, the car was being driven by a 34-year-old electrician of Airy Hall Mahaicony, East Coast Demerara, and there were three passengers inside.
A Police rank told the driver and passengers that the Police would like to search their persons and belongings, and they all consented to being searched.
One of those passengers, Compton Joseph Allicock, a 58-year-old farmer of Unamco Junction in Ituni, Upper Berbice River, was seated in the front passenger's seat, and he had a pink haversack on the floor of the car between his feet.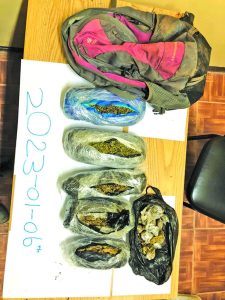 When the rank searched the person of Allicock, he found a bulky black plastic bag containing leaves, seeds, and stems suspected to be cannabis stashed in the crotch of his pants. The ranks also searched Allicock's haversack, and found four bulky black plastic parcels and one blue plastic parcel concealed among a quantity of cassava.
The parcels contained a number of leaves, seeds, and stems suspected to be cannabis.
Allicock was told of the offence committed and cautioned. He then admitted under caution, "Officer, I was taking this thing (marijuana) to make a fine hussle, because things lil hard."
He was arrested and escorted into the Ituni Police Station, where the cannabis was weighed in his presence and amounted to just over 2,041 grams.
While nothing of evidential value was found on the driver and the other two passengers, Police took statements from them, and they were allowed to go. The suspect, Allicock, is in custody pending further investigation. (G9)