Discarding boundaries when offering gestures of kindness or charity were the words echoed by President Irfaan Ali, during the launch of Islam Awareness Week 2023 on Friday evening.
In his address, the Guyanese Head of State expressed that setting boundaries to kindness only confine it to a specific section of society and is not in conformation with the teachings of Islam.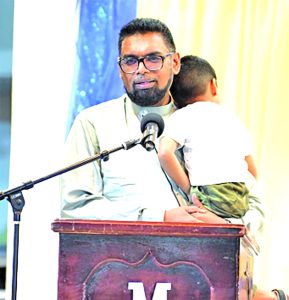 "We live in a world today where we ascribe our own boundaries to some of the attributes like tolerance, and kindness. There is no boundary as to who should receive our kindness or our kindness must be confined to those in our community or the Muslims around you. That cannot be a representation of the attributes of kindness to the Prophet," Ali shared.
He added that in the case of charity, there must be no superiority between oneself and those they are seeking to assist.
"There is no limit or definition to what charity is or what charity should be. The Prophet recognised that there would be some challenges that humanity will face. And how were those challenges dealt with? There was no superiority between one tribe and another, an Arab or a non-Arab, a white or a black."
Ali was also keen to focus on leadership, noting that it is an individual's responsibility to display such attributes. He added that one cannot indulge in actions that demonstrate injustice while claiming to stand on the side of justice.
"Justice is not staying silent and sitting down when there is injustice. Then how are you demonstrating that you believe in justice? You cannot be part of an injustice that destroys the fabric of society and destroys humanity and then cry that you're on the side of justice. It doesn't work that way."
"If we believe that we can separate ourselves from the development of the society as a community, then we are not fulfilling our role as part of the family of humanity. A very fundamental underpinning of the life of the prophet was the aspects of humanity, not the aspects of Muslims," said the President.
Islam is a monotheistic religion centred around the Quran and the teachings of Prophet Muhammad. Islam is the second largest religion in the world after Christianity, with about 1.8 billion Muslims worldwide.