– Dover describes Jaguars' 0-1 defeat to Spice Boyz
By Akeem Greene
Guyana's National Football Team, the Golden Jaguars, have suffered a painful 0-1 defeat at the hands of Grenada's Spice Boyz in their international friendly played at the Kirani James Stadium on Saturday evening.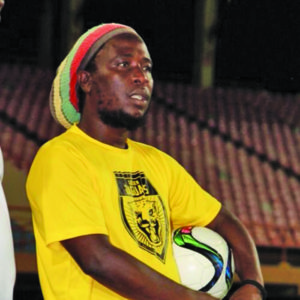 Saydrel Lewis scoring the lone goal in the 90th minute meant the Spice Boyz have extended their superiority over the Golden Jaguars by winning nine of the head-to-head clashes against the Jaguars' seven, with one showdown ending in a stalemate.
"It was a tough loss," lamented Jaguars' Interim Head Coach, Wayne Dover. "It is a very tough loss to accept at that stage of the game, after having dominated for long periods. We created some decent chances. I can't explain how I felt and how the players felt about the loss. It was devastating," he told Guyana Times Sport on Sunday while in-transit from Trinidad and Tobago.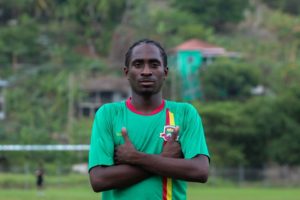 "We made good build-ups. If I was to look at any point where we lost, it would be in the final third. The Grenadians were sitting so deep — having ten to eleven men behind the ball and playing off the counter — it became difficult for us to open them, and we did not demonstrate the patience that was asked," Dover contended.
The prior clash, on March 29th, 2015, initially ended 2-0 in favour of the Guyanese, only for FIFA to reward a 3-0 win to the Grenadians after it was ruled that Guyana's England-born Matthew Briggs was ineligible to play in the match.
It was a chance for Guyana to alter its difficult history against the opponents, and the Golden Jaguars will rue their missed chances.
"Our players started to force the game, and essentially rushed the plays. What I would have liked to see was a bit more combination play in the offensive turns, to unlock the defence. Our crossing was also awful; we didn't have many effective crosses," Dover lamented.
It is not all gloom for the coach, as he has seen emerging from the young brigade positive signs which, according him, portend a promising future.
"The youths performed well during the session in Trinidad and Tobago, and those who went into the match held their own and showed that the future is bright for Guyana football once they are handled properly. I'm satisfied that this was used as part of the exposure to get them to understand what is required for (participation in) international football," Dover expressed.
Drawing board
Coach Dover, who has vast experience in local football, has said he would be returning to the 'drawing board' to devise ways of making the team win on a more consistent basis, in order to improve the fan base and hopefully attract sponsors.
According to Dover, the first order of business would be building a strong group of local players to be fully prepared when they enter competitive Caribbean football competitions and participate in the Gold Cup.
Jaguars starting XI comprised: Andrew Durant (GK), Jake Newton, Adrian Butters, Terrence Vancooten, Walter Moore, Samuel Cox (cpt), Brandon Beresford, Chris Bourne, Shaquille Agard, Neil Danns and Emery Welshman.
The substitutes came from: Kai McKenzie-Lyle, Jeremy Garrett, William Europe, Curtez Kellman, Anthony Belfield, Frank Parks, Maliek DeFreitas, Cashion London, Sheldon Holder, Gregory Richardson and Ralph Parris.