Iwokrama River Lodge and Research Centre, situated on the west bank of the Essequibo River, is not just a resort, but a tourist destination which offers a wildlife experience.
The Lodge is Iwokrama's operational hub. While remote, it offers all that you could possibly need for a comfortable stay in the forest.
Iwokrama International Centre works continuously to further knowledge of nature and the environment. Operations Manager of the Iwokrama International Centre, Rohanie Roopnarine, says the Lodge offers several packages which allow guests to see wildlife in their natural habitat.
While Iwokrama is a conversation area, Roopnarine explained, it has two sustainable businesses, one of which is eco-tourism and the other sustainable operations. "We have three packages here at the River Lodge, which is rounded with one-night, two-night and three-night packages.
Depending on which package you choose, we offer several tours. They include trips to Turtle Mountain, a rapid, a lake caiman spotting, and nocturnal spotting. There are nine cabins and six single rooms for researchers, because we also offer a place here for researchers to come and do research," she added, while further explaining that the Iwokrama forest is split into two zones, with half being the wilderness reserves.
"That is 50 per cent of the area where limited research is conducted, but it is used as a controlled area for the other 50 per cent of the forest, which is a sustainable utilisation area. Both businesses are within that sustainable utilisation area, and the majority of the research is also conducted within that area.
"The jaguar-spotting tour is done in the evening, like from around 5 O'clock, or depending on the time guests want to do it. At one time we did it at 3 O'clock in the morning," she said.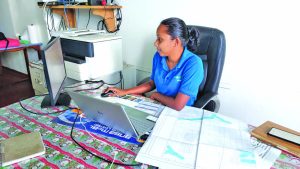 "The slow drive in the dense forest is about 10 kilometres from the Lodge. The slow drive allows visitors to look out for any wildlife available. The chances are higher to see a jaguar, because mostly you see them at night," she said.
Seeing a jaguar in the forest is one of the high points of the visit. "They are not always there, but you are guaranteed to see other wildlife. Sometimes you see tapirs, you see deer, you see agoutis; these are all other wildlife that you can see on nocturnal spotting if you go out in the evening.
"The caiman-spotting is about a 45-minute tour, and is done after dinner in the evening. It is a boat tour, so you go out on the river and you shine your torch in the river and you would see red eyes shining back at you," she explained.
According to the Operations Manager, who also plays a part in the Forestry Department, where she does mapping for the department, even though it is called caiman-spotting, snakes are also seen during those tours.
"I know one time they went out and they saw the Amazon Boa and the Armorial Boa – a beautiful specie. You do see those in the nights as well."
Turtle Mountain has a 950-foot climb, at the top of which one is guaranteed to see the spider monkey.
"When you look down into the forest, there are little red faces looking back at you. But you do have a lot of bird species. Our guests that usually come there would come with their bird checklist. In the evening you will see them ticking off the birds, and if they see a species that they don't know, then they would put it on their list and they would go and research that bird," she detailed.
"To get to Turtle Mountain, it is a twenty-minute ride by boat. So, while going to Turtle Mountain, the chances are that you would see other wildlife, like the giant river otters. They travel in big groups; it is a very beautiful sight if you get a chance to actually see them," she said. She said those animals are rarely found by themselves.
According to Roopnarine, most visitors go there to see the wildlife, and not really for the tours being offered. The rapid tour allows one to experience nature, and if the water is low, visitors are allowed to go into the rapids.
Iwokrama River Lodge is an eco-tourism gem surrounded by a vast tropical rainforest. The River Lodge is the only establishment of its kind. It has 24-hour electricity supplied by solar power.