Grenada vs Guyana International Friendly
…Young talent also included
The Senior Men's National Team, the Golden Jaguars have called up a provisional locally-based squad in preparation for the International Friendly against the Grenada's Senior Men's National team on October 7 in Grenada.
The squad consists of four Goalkeepers, seven Defenders, 13 Midfielders and three Forwards with players coming from Silver Shattas Football Club (FC), Den Amstel FC, Guyana Defence Force (GDF) FC, Milerock FC, Santos FC, Western Tigers FC and GFC.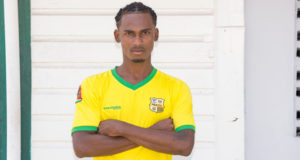 Among those called up is veteran striker Gregory "Jackie Chan" Richardson, young defender Jeremy Garrett and his counterpart Ryan Hackett.
Interim Head Coach of the Golden Jaguars, Wayne Dover, in a release to the media said the squad has some young talent and noted that he will be focusing on fitness as Guyana prepares to face one of the toughest opponents in the Caribbean.
"There is a large group of young players in the squad who earned their call-up from performances in the Corona Beer Cup and Mayor's Cup. The other players who make up the squad are players who are part of the senior national pool. Training will be done three days per week and will focus on aerobic, aerobic endurance, anaerobic and strength" Dover revealed
According to Dover, a shortlist of the local squad will be done prior to departure and they will be joined by the selected international players: "At the end of these sessions, the technical staff will select the best players as well as the best overseas-based players to shortlist a final 18-man squad for the upcoming game."
The squad is scheduled to depart to Trinidad for a two-day encampment before leaving for Grenada on the 5th October. Other members of the technical staff include Rawle Adams –Team Manager; Charles Pollard –
Assistant Coach; Linden France – Physical Trainer; Eon De Veira – Goalkeeper Coach and
Denzil Hernandez – Physiotherapist. Bryan Joseph, Head Coach of the National U15 male team, will assist with training in the absence of Pollard who will join the squad in Trinidad.