– Paul's burst leaves Volcanoes reeling at stumps
2018-2019 Regional 4-Day Tournament…
By Brandon Corlette
It was a beautiful day for cricket at Providence; Tagenarine Chanderpaul finally jumped the hurdle – after batting for approximately 10 hours, he reached his second First-Class century. He remained unbeaten on 116 off 484 balls, including 10 boundaries.
The second day was dominated by Jaguars after they racked up 454-9 declared and grabbed five Volcanoes wickets at stumps, as the visitors are trailing by 355
runs. Keemo Paul was the star of the show with the ball, ending the day with 4-28, removing the first four Volcanoes batsmen. Paul removed the prized scalps of Devon Smith and Captain Kirk Edwards in another dominant day for the Jaguars.
Earlier, Jaguars resumed the second day on 307-6, with the intention of extending their first innings dominance and setting a mammoth first-innings score. Chanderpaul began the day on 71 with his partner, Romario Shepherd, on five. Shepherd started off with finesse, clipping fast bowler Sherman Lewis for four the first ball of the day. The strong Berbician continued to time the ball to perfection as he drove Lewis straight down the ground for another four, to set the tone early on day two for the Jaguars.
The Chanderpaul and Shepherd partnership continued to flourish and the latter picked up boundaries at will and rotated the strike with great comfort. Jaguars reached 350 after 107.4 overs when Shepherd took a single off the bowling of left-arm spinner Larry Edward. The Tucber Park player, who resides in New Amsterdam, Berbice, edged closer to his half-century, while Chanderpaul inched closer to his century.
In the 125th over, Shepherd exploded, hitting left-arm spinner Kaveem Hodge over his head for a six followed by a four in the same area to reach his second half-century in First-Class cricket. After Shepherd smoked Edward into the media centre for six, Chanderpaul remained patient and reach his century. The magic moment came when he flicked Josh Thomas into the mid-wicket area, scampered for two runs and raised his bat as he reached his second First-Class century.
His century came off 424 balls batting for 429 minutes hitting seven fours, nine twos and 46 singles. The left-handed Chanderpaul and Shepherd batted until lunch in a wicket-less first session on day 2. Guyana Jaguars were 403-6 in 130 overs at lunch with Chanderpaul unbeaten on 101 from 427 balls and Shepherd on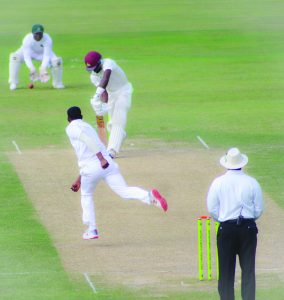 68 off 134 balls.
In the afternoon session, post lunch, fast bowler Thomas started proceedings, bowling in the right channels. He was rewarded when Shepherd became his fourth victim, four overs after the lunch interval. Shepherd was out caught at first slip off a Thomas ball that he played a false shot, which was easily pouched by Devon Smith. Shepherd played a good knock of 72 from 144 balls that included six fours and two sixes.
The Volcanoes broke the 121-run partnership between Chanderpaul and Shepherd, with the score on 411-7 after 134.3 overs. Clinton Pestano replaced Shepherd as he partnered the rock-solid Chanderpaul. Pestano was his usual aggressive self, hitting Thomas for a six, straight over the long-off boundary. Pestano continued to hit boundaries at will, but his breezy innings came to a close when he was out caught by Roland Cato off the bowling of Jordan after scoring a 30-ball 20, inclusive of two fours and one six.
With the score on 443-8, the Volcanoes were sensing a declaration. After Permaul (02) became the ninth wicket with the score on 446, when he was out caught by Devon Smith in slips off Edward, Gudakesh Motie partnered Chanderpaul. The final batsman, who faced eight balls after cutting a ball past backward point for four, was left unbeaten on five when the declaration was made at 13:35h.
Guyana Jaguars declared on 454-9 in 148 overs. Of the Volcanoes bowlers who bowled a total of 148 overs, Thomas was the most successful bowler. The right-arm fast bowler, finished the first innings with 4-93 in 25 overs. Ray Jordan finished with 2-55 while Sherman Lewis and Larry Edward had one wicket each.
Windward Islands Volcanoes resumed their innings at 13:45h; Devon Smith and Taryk Gabriel made their way to the batting crease and ensured a cautious start until the tea interval. Volcanoes reached tea with the score on 19-0 in five overs, with Smith on 11 and Gabriel on five. Opening bowlers Pestano and Shepherd started well, but Shepherd occasionally strayed down the leg side.
The veteran Devon Smith played some good shots, but Paul, coming as the second change bowler, in the first ball he bowled, claimed the prized scalp. Paul was on the money from the get-go, taking the ball away from Smith, who edged one to the ever-dependable slip fielder, Trevon Griffith. Smith was out for 17 after facing 26 balls with the score on 38-1 in 9.1 overs
Jaguars' bowlers extracted pace and bounce on the Providence pitch while Paul got movement off the seam, with his natural action taking the ball away from the batsmen. Volcanoes batsmen were tentative with their footwork; Roland Cato partnered Gabriel, but 18 runs later, Paul continued his wicket-taking ways, removing Cato in the 14th over with the score on 56-2. Cato was caught by Griffith in a lively Jaguars slip-cordons for 10 from 15 balls.
An experienced Kirk Edwards partnered Gabriel, but Paul continued to make the ball move off the seam, removing Edwards seven runs later. Edwards hit one four but was out caught by the impressive Paul. It was almost a carbon copy dismissal of when Edwards edged one to Griffith at second slip, to give Paul his third wicket and Griffith, his third catch.
Volcanoes crawled to 63-3, when Edwards took the long walk back to the dressing room. Perhaps, 63 was the golden number for the Jaguars: Paul struck again when he removed Hodge for a duck, caught behind by wicketkeeper Bramble. Volcanoes found themselves in all sorts of trouble with the introduction of Permaul, he further dented the Volcanoes line-up when he spectacularly caught Gabriel off his own bowling.
Volcanoes slipped to 81-5 after Gabriel who attempted a drive off Permaul, was out for 23 facing 71 balls, inclusive of five fours. Former West Indies Under-19 player Alick Athanaze safely negotiated ending the day with 25, while his partner, Dennis Smith was unbeaten on three. Volcanoes ended on 99-5 after facing 33 overs in their first innings.
For the Guyana Jaguars, Paul was the best bowler, picking up the first four wickets, ending the day with figures of 4-24 in eight overs. Permaul was the other bowler with a wicket, in the dominant day for the Guyana Jaguars, with Volcanoes trailing by 355 runs.
The penultimate day's play at Providence will commence from 09:30h, local time, with Jaguars aiming to bowl out the Volcanoes and insert themselves in to bat, to clinch an innings victory.