WICB/ PCL Digicel Regional 4-Day
― Scorpions 2 down chasing 329
A commanding 133-run third wicket partnership between Leon Johnson and Vishaul Singh helped hosts Guyana Jaguars set Jamaica Scorpions 329 runs to win late on day three of the opening round clash of the West Indies Cricket Board Professional Cricket League Digicel Regional Four Day Tournament at Providence on Sunday.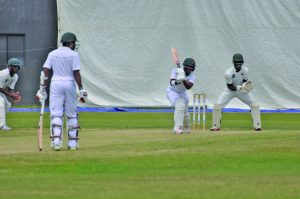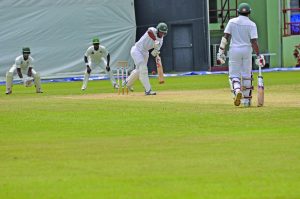 Then in fading light, the Jaguars snuffed out two Scorpions wickets to consolidate their position of going for an outright win today on a track with variable bounce.  The action on day three was delayed by an hour and 15 minutes due to early morning rain. When the battle resumed, the Jaguars' openers continued from where they left off on Saturday evening in laying a solid foundation. Shimron Hetmyer played a gem of an innings playing some exquisite shots from 72 balls while hitting seven fours. The left hander missed out a second half century at this level when he edged a ball that jumped on him to Miller at slip to end the opening stand with a more circumspect Rajendra Chandrika.
In partnership with Johnson, the right handed opener was looking for quick runs and was run out attempting a second run when he failed to beat a perfect throw from Jason Dawes from deep cover. The batsman who scored 86 in the first innings was gone for 34 at 89/2. Vishaul Singh then joined his captain and they went to lunch at 109 without further loss with Johnson on 17 and Singh 11. The lead was stretched to 199 after 83 runs were scored in the opening session from 27 overs.
The Jaguars completely dominated the second session where they scored 75 runs from 32 overs without losing a wicket. In that period, Johnson brought up his 29th First Class half century and went to the interval on 51 while Singh was on 44 and the Jaguars 184/2. The Scorpions' spinners were penetrative while the samers bowled too wide of the mark.
However, Scorpions captian, Nikita Miller used the quick bowlers after the drinks break to slow down the game after Johnson and Singh were scoring freely. The strategy seemed to work as the Jaguars were now forcing the shots runs became hard.
After the tea interval, the Jaguars were pushing for quick runs and Johnson perished to a trap set by the Scorpions where they bowled short with deep fielders on the on-side. After the partnership was broken Singh followed shortly, giving Miller a sharp catch at a wide slip to give Jermaine Blackwood two quick wickets from three overs of medium pace.
The Scorpions began the run chase in fading light with 14 overs available. The Jaguars looking for early success from as much opportunities began with debutant off-spinner Eon Hooper. However, it was Keon Joseph who comprehensively bowled first innings top scorer John Campbell with a very quick ball that jagged in from a good length. Devon Thomas followed shortly before the Umpires decided that it was not sufficient light for night watchman Jason Dawes and Guyanese Trevon Griffith to continue although there were five overs still available.
As a result play will begin at 9:00 h today with the Jaguars eight wickets away from an opening victory to begin their quest for a three-peat on a positive campaign while the Scorpions will have the more difficult task of batting out the entire day for a draw or the highly improbable assignment of making more than 300 runs on the Providence track.