There is much that a father and son can share; from DNA, to physical features, to likes and dislikes. However, agreeing on the love of the same sport is a phenomenon, but it is by no means rare.
Former grass track motorcycle champion Keith Ramnarayan had his heyday at the Ogle grass track many years ago, and now his 25-year-old son Jared is in the prime of his life, racing circles around the go- karting competition in Canada.
While Jared always possessed a liking for the sport, it was not until he was much older that he became focused on the track. Prior to that, Jared attended and completed a degree in mechanical engineering at the University of Ontario Institute of Technology (UOIT) in Canada.
The elder Ramnarayan reflected on his son's entrance to the sport, disclosing that at first "it was just for fun".
"Well, what happened in 2017 in Canada, he told me that, you know, he wants to do go- karting, but not on the competitive side, he just wanted to do it for fun. So, for that year, he drove just for fun. But in 2018, he decided to go into the competition," Keith explained.
His first year of competition in 2018 was more of a learning experience for the young driver. It was in 2019, however, that Jared raced his way to second place in the final of the ROK Seniors class of the Canadian National Championships.
Having had a remarkable achievement, he could only build on the stellar reputation he had already set for himself.
It can be argued that the younger Ramnarayan's passion for the sport stemmed from his father's involvement on the track, but while his familiarity with 'all things cars' did part of the job, the zealousness he now possesses could only come through Jared's personal growth and understanding.
"Well, for me, my passion for racing started at an early age, especially since I've always been into cars. It started with my dad, who raced motorcycles himself, having some form of motorsport always on the TV most Sundays. However, being that young at the time, I only saw racing at the surface level, where it was more 'this car is fast, that car is fast'," the racer told this publication.
He continued, "But the older I got, the more I started to understand the technical side of things and the variables involved in making a driver/team fast, which is what I think kept my passion for the sport."
As one would expect, the fast lane and sheer competitiveness of the sport keeps Jared focused, and as told by the go-karting sensation himself, there is no feeling like knowing your hard work is paying off.
"There is a lot of problem- solving involved in the sport, and there are many different solutions that can be used by different drivers to achieve the same goal. As far as what keeps me interested in the sport, I'd have to say is mainly the competitive nature of the sport. With the competition being as tough as it is, as a driver, you're always trying to find new ways to improve and be better for the next race, because, at the end of the day, every driver around you is also trying to become the best version of themselves skill-wise. And when you get it right, it's such a satisfying feeling because you know your hard work is paying off," Jared candidly shared.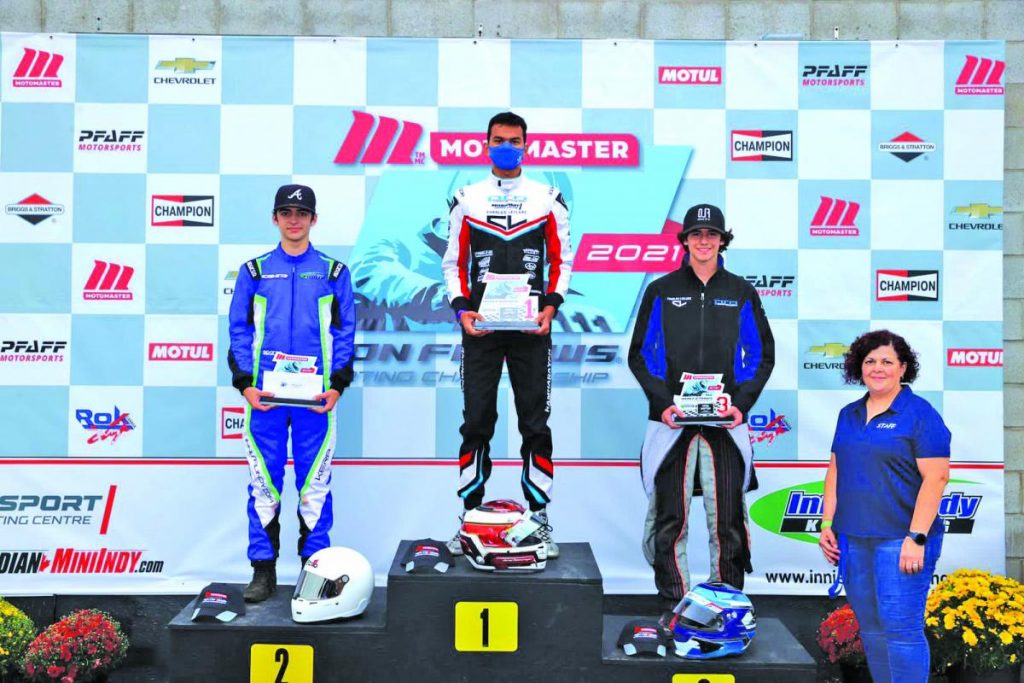 Of course, the Coronavirus pandemic had, like in many other parts of the world, put a halt to sports. But the Canadian competitors were soon back out on the track, and the elder Ramnarayan is grateful that the down-time did not affect his son much.
"It didn't really affect him, to be honest. You know, because they still had their season, the go-karting season still went on, they still had the races as per normal, but there were some restrictions," he stated.
As for Jared, he is also quite happy with the way things are going on the circuit, after making a number of podiums this season.
The racer commented, "I'm honestly quite happy with the performances that I've had so far this year, which also too are a clear reflection of the progress that I've made this year in my driver development. It's refreshing to see that all the time and effort being invested into my development is paying off."
While Jared basks in his success, Keith is a proud father, watching from the sidelines. Not only is he impressed with Jared's commitment, but his consistency, even after moving up to a more competitive class.
"And why I'm so proud, too, is because this is his first year in the shifter category, which is the highest class, and the go-karting over there is a very competitive sport, I must say. You know, you have like about 21 to 25 starters, and you have drivers from the US, Europe, Canada who take part in those races," Keith shared.
Like any other professional athlete, the icing on the cake is always 'to win it all'. This achievement is within reach for Jared, but finishing strong is his ultimate goal.
On this topic, he noted, "To finish the season off as strong as I'm about to means a lot, because there's never a guarantee of a perfect season. But with the season that I've had this year, I can gladly say I was on the more positive side of things."
On a similar wave, Keith is also optimistic about his son's future in the sport, one that he hopes would lead him to the big leagues in Europe.
"I would like him to move forward, but there are all of the restrictions happening, not only in Guyana, Canada and the US, but worldwide. I was hoping that one day he will go and race in Europe," the father expressed.
When it comes to what his son can bring to the table locally, Keith Ramnarayan is of the opinion that there are lots Jared can share about the realities of professional racing in North America; advice that he thinks can raise the bar for the sport in Guyana.
Keith posited to this publication, "Well, I guess he would able to share some of his experiences with them, how competitive the sport is over there. Because it's a much higher standard. So, with his experiences, he'll be able to help them."