By Romario Samaroo
Eighteen riders defying a pugnacious sun took to the starting line on Sunday for the Guyana Cycling Federation's (GCF) 75-mile road race; but at the finish line, it was team Coco's Jamaul John who won the race and bragging rights, marginally defeating We Stand United's Andrew Hicks.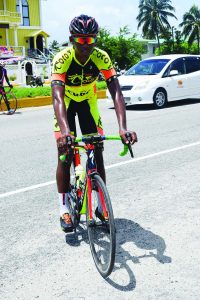 The race began in front of the Ocean View Hotel on the Rupert Craig Highway on the eastern outskirts of Georgetown, and the wheelers proceeded to Mahaicony on the East Coast of Demerara before returning to the point of origin, where spectators witnessed a ding-dong battle for supremacy between John and Hicks. John successfully managed to outsprint Hicks in a tussle that began about 40 metres from the finish line.
John completed the journey in a time of two hours 37 minutes and 10 seconds (02:37:10), according to racing official Joseph Briton's records.
Hicks was followed by club mate Raphael Leung, who secured his first podium position of the year; while veteran Team Coco rider Junior Niles finished fourth. By virtue of Niles's position, he was again able to secure the position of top veteran.Briton John copped fourth overall, and first in the Juniors' division; while Leer Nunes finished sixth. Completing the top 10 were Dwayne Gibster, Jason Cameron, Eric Sankar and Everal Mundy in that order.
This race was one in a series of races organized by the GCF in an effort to promote the development of local cycling. As promised by President of the GCF, Horrace Burrowes, the Federation intends to host a series of races to help develop the talents of the young riders and promote youth development.
No monetary prize was presented at the end of the race, but points scored in this race would be combined with points from other GCF-organized race when a grand prize would be on offer at the end of the season.