Golden Jaguars Football team…
After just one year at the helm of the senior men's national football team, the Golden Jaguars, Head Coach Michael Johnson has accepted a position in England and has thus tendered his resignation to the Guyana Football Federation (GFF), effective 13th August.
Details of the position he has accepted will be announced soon, it has been declared.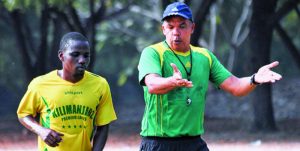 The GFF has since appointed Márcio Máximo as the Interim Head Coach for the 2019-2020 CONCACAF Nations League (CNL) campaign. This appointment takes effect from August 21.
These developments follow Johnson's successful tenure with the Golden Jaguars, having led the team to its historic participation at the CONCACAF Gold Cup 2019, which no doubt has boosted his professional profile and created opportunity for him to advance.
GFF President, Wayne Forde, speaking on behalf of the Executive Committee, said he was proud of the work done by Johnson, especially in aiding the professional development of the senior national programme and the creditable performance of the team at its inaugural Gold Cup participation.
The Executive Committee of the Guyana Football Federation (GFF) wishes coach Johnson well in his future endeavours.
Meanwhile Máximo, a Brazilian national, comes to the post with a CONMEBOL pro licence and more than 30 years' experience as a coach and coaching instructor at both club and national team levels. He has, to date coached the Brazil National U-17 and U-20 teams (1992-1993), Qatar National U-20 Team, Cayman Islands National Team (1999-2002), which resulted in Caribbean Cup and World Cup qualification respectively; and the Tanzania National Team (2006 – 2010), which reached the qualifiers for the World Cup – Germany and South Africa – and also qualified for the African Cup of Nations for the first time ever.
This coach has also worked with club teams across the world, including Germany, Saudia Arabia, Costa Rica and Scotland (United Kingdom).
The new Head Coach, who is expected to arrive to Guyana next week, will reside in Guyana during his eight-month tenure, and will work with the Guyana-based senior national team players to improve their chances of breaking into the team.
He is also expected to contribute to the national development programmes and coaching education initiatives. Following the conclusion of the CNL qualification, a performance evaluation will be done, which will inform next steps to be taken.