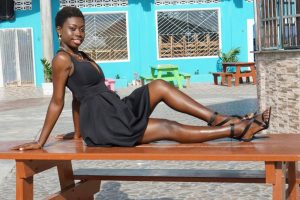 Twenty-two-year-old Denica Henry of Bloomfield Village, Corentyne will be competing in the Miss Exquisitely Conscious 2019 slated for Saturday, July 13 at the New Amsterdam Multilateral School.
This Berbecian is a second year Social Work Student at the University of Guyana, Tain Campus. She was employed for the past 14 years at Little Rock Television Station (LRTV) and would have joined the 88.5 Rock.
She is a former student of New Amsterdam Multilateral Secondary School where she graduated with nine subjects at the Caribbean Secondary Education Certificate (CSEC). She did not stop there, but went ahead and completed his CAPE Exams.
She is a Mental Health Advocate who detests littering, improper usage of the road and bad minded people.
The eldest of three girls, she has been encouraged to always be honest, bold, compassionate and assertive hence my professional and extra circular achievements are credited to my parents; my mother in particular, for allowing me to pursue many wonderful opportunities in various areas from debates to theatre arts productions to travelling and even pageantry.
Currently, she is the president of the Central Corentyne Chamber of Commerce Youth Arm, Youth Ambassador of the RHTY&SC, Business Advisor and Promoter, Public Speaker and former UGBC Student Society Representative and Miss Berbice "I'm a Big Deal" Pageant 2017 delegate.
In her spare time, she seeks solace from the stresses of the world by volunteering, collecting and posting memes, dancing, modeling, attending workshops, travelling, sleeping, eating, exercising and spending time with family and friends.
She hopes to earn a Degree in Social Work and also pursuing additional studies in areas of Youth Development, Industrial/Organizational Psychology, Human Resource and Project Management, Foreign Languages and Agricultural Science.
However, Henry will be competing with six other delegates for the coveted title. The delegates would have been part of the preliminary competitions over the past weeks. These include, swim wear, costume, talent and intelligence.
The pageant is being promoted by Miss J Productions and is expected to commence at 20:00h sharp. Tickets cost $1,500 and can be purchased from any of the contestants or promoters.