Recently stylish 13 year old tennis player Joshua Kalekyezi has been in ripping form, delivering upsets against all odds and most importantly winning matches. On Friday evening he continued on a similar path as he recorded a commanding victory over Surendra Khayyam to get his campaign in the eighth edition of the Guyana Lawn Tennis Association (GLTA)/ Guyana Bank for Trade and Industry (GBTI) Tennis Tournament off to a winning start.
At the GBTI Recreational Facility, Kalekyezi made light work of his opponent to win in two sets 6-0 6-2 on the opening night of the tournament.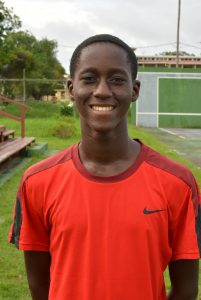 Also in the winners' row on the opening night were, GLTA President Jamal Good Luck, Daniel Lopes and Ronald Murray.
In the most exciting clash of the night, Lopes defeated Jordan Beaton 6-4 6-3 to state his claim in the Men's open single category.
Meanwhile, Goodluck got past Adesh Kayyam 6-0 7-5 in his opener to set his campaign off to a positive start.
In the ultimate clash of the night Murray defeated Alexandre De Almedia 6-1 6-1 to signal his intent of what to expect for the remainder of the tournament.
Matches will continue for the next 12 days in the tournament at the GBTI Recreational facility. Follow Guyana Times Sport for your latest update of the tournament.
Today starting from 10:00h the tournament will continue.