…Raiders, Royals have mixed results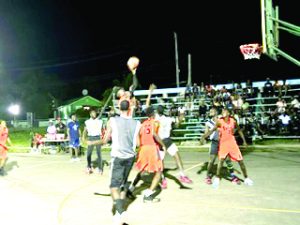 Two wins and a perfect start was how Kid Rock Blazers began their hunt, but Retrieve Raiders and Victory Valley Royals had mixed fortunes when the Kevin Joseph Under-23 Basketball competition began last weekend at the Retrieve Community Hard Court in Linden, Region 10.
To bounce off the tournament last Saturday, Victory Valley Royals scored a 64-59 win against Retrieve Raiders, and in game two, Kid Rock Blazers were 52-40 winners over Block 22 Flames.
The next day, Retrieve Raiders scored a 42-37 win against Kings, thanks to 26 points from Neil Marks (Jr). Shamar Savoury contributed 13, as Jamal Semple, with 12 points, was the top scorer for the Kings.
KidRock Blazers then won for the second time, beating Victory Valley Royals 51-48, with Jennis Benjamin getting a game-high 23 points and Leon Benjamin and Tieshawn Kitt each netting 10 points.
Rakin McDonald and Kobe Tappin jointly top-scored for the Royals with 15 points each.
The competition continues this Saturday and Sunday with double-headers.