Seasoned pro Kassim Khan stunned a high-profile field of golfers as he emerged champion of the inaugural Odyssey Transport Golf tournament, which teed off last Sunday.
Torrential showers did little to deter the large flock of golfers who were enthused to get themselves further fine-tuned ahead of the Club's July extravaganza set for a few days from now.
Khan landed his first-place finish after scoring 65/9, followed by the likes of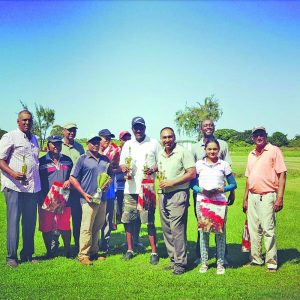 Mohanlall Dinanauth, 66/6; and Lusignan Golf Club President Aleem Hussain, 69/11 while the sponsor of the tourney and CEO of Odyssey, Feroze Barakat, played well for his fourth-place finish (70/18).
Dinanauth, a former Guyana Open Male Champion, obtained the Best Gross trophy with a score of 72 as the next highly-ranked 10 placers received gift bags, compliments of Barakat in appreciation of the competitive spirit so many golfers exhibited.
Those placing in that cohort included – Paton George 72/19; Patrick Prashad 74/9; reigning Guyana Open champ Avinash Persaud 75/2; Ian Gouveia 75/15; Nazeem Haniff 76/8; Maurice Solomon 76/22; Miguel Oviedo 76/28; David Harry 77/12; Joaan Deo 78/17; and Danny Mangra 79/26.
Barakat, along with Manager Troy Khan and three other Odyssey staff, was on hand to congratulate the winners and distribute the awards. LGC President Hussain and Dr Joaan Deo, standing in for club Captain Chatterpaul Deo expressed gratitude to Odyssey and the golfers who participated for their contribution to the day's programme.